Corel PaintShop Pro 2021 Ultimate 23.0.0.143 Win x64

2020-08-14

Softwares
/
Graphics-Design apps

362

0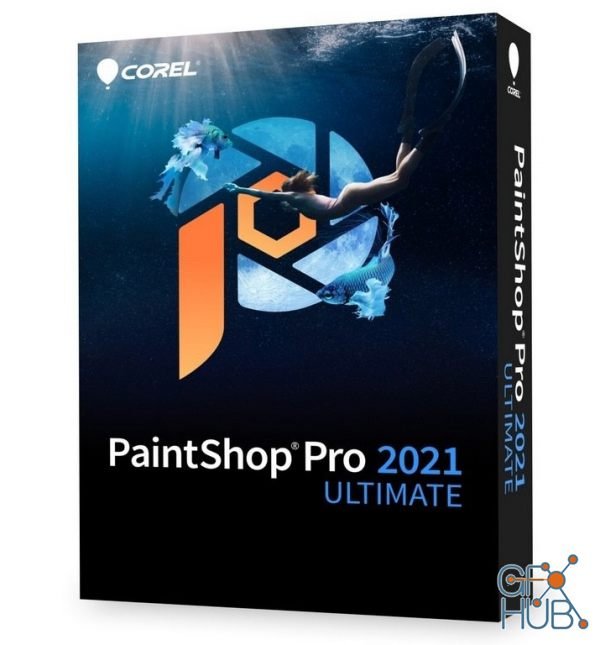 Corel PaintShop Pro 2021 Ultimate 23.0.0.143 Multilingual Win x64
The Ultimate photo editing software. Take your underwater and drone photography to new heights with the Sea-to-Sky™ workspace and level up your photo editing workflow with smarter tools powered by AI.
Make it Ultimate. Make it PaintShop Pro.
Extend the creative possibilities with the ultimate collection of photo editing and design software.
AI HDR Studio
Instantly give your photos a unique HDR effect with an exclusive collection of presets powered by artificial intelligence. Experiment with a variety of styles to enhance the finest details and bring out the best in all types of photography from close-up portraiture to scenic landscapes. AI HDR Studio is a hassle-free solution to correct, enhance and apply artistic flare to your photos in a matter of seconds.
Sea-to-Sky™ Workspace
Experience an all-new photo editing workspace designed to take your underwater and drone photography to new heights. Make seamless corrections and creative improvements with a custom set of tools and relive your most memorable moments to the fullest.
Corel® Creative Collection
Expand your creative capabilities with dozens of brushes, textures, and over 100 royalty-free backgrounds. Enhance your photo projects with playful designs, flowers, sunsets, and more, along with an array of lively brushstrokes.
Edit photos like a pro
Edit, retouch, and correct your photography with a comprehensive toolset designed for all skill levels.
Create graphic designs
Work with intuitive text, brushes, textures, patterns, drawing, and painting tools to produce inspiring designs.
Enhance photos with AI
Rely on artificial intelligence and machine learning technology to enhance images with one-click to instantly make every photo, the best photo.
Choose from multiple workspaces
PaintShop Pro is all about selection and customization, offering multiple workspaces you can make your own to work most efficiently.
Add effects for impact
Experiment with hundreds of creative filters and fun effects to make your photos personal and original to share and print.
PaintShop Pro is getting smarter
Highly effective features and tools powered by artificial intelligence and machine learning technology make creating something truly original, achievable.

System Requirements:
- Windows 10 (recommended version 1809 or later), Windows 8/8.1, Windows 7 with the latest service pack (64-bit editions)*
- For virtualization: Microsoft Windows Server 2012 R2, Windows Server 2016, Windows Server 2019.
- Intel® Celeron G series or AMD® Phenom II and above (Intel® i5 or AMD® Ryzen series and above recommended for Artificial Intelligence feature support)
- 4GB of RAM (8 GB recommended for Artificial Intelligence feature support)
- 3GB of available hard-disk space required (4GB recommended)
- 1366 x 768 display resolution (1920 x 1080 display resolution @100 DPI recommended). Up to 250 DPI supported with appropriate resolution display.
- DirectX 10 or higher compatible video adapter with the latest driver (DirectX 12 compatible discrete VGA card recommended for GPU acceleration)
- Internet Explorer version 10 or higher

Supported Languages: CT, DE, EN, ES, FR, IT, JP, NL, RU
Download links: