Adobe Photoshop CC 2018 19.1.2 Win

2018-03-14

Softwares
/
Graphics-Design apps

3 220

0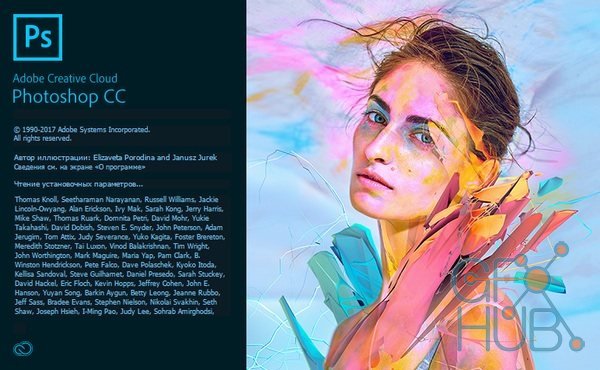 Download new Adobe Photoshop CC 2018 19.1.2 for Windows
Adobe Photoshop CC 2018 - a new, next to the CC version of the program for processing raster graphics. Many graphic formats are supported. Adobe Photoshop allows you to create new images, and edit them. Photoshop is used to create photorealistic images, to work with color scanned images, for retouching, color correction, collage, transformation of graphics, color separation, etc. Adobe Photoshop has all the methods of working with bitmaps, while it has the ability to work with layers and uses outlines. The program, which you can download for free at gfx-hub.cc, is the undisputed leader among professional graphic editors due to its broadest capabilities, high efficiency and speed of operation. Adobe Photoshop provides all the necessary tools for correction, editing, preparing images for printing and high-quality output.
Designed for anyone to design anything.
From posters to packaging, basic banners to beautiful websites, unforgettable logos to eye-catching icons, Photoshop keeps the design world moving. With intuitive tools and easy-to-use templates, even beginners can make something amazing.
Not just photo taking. Breathtaking.
Whether you're looking for everyday edits or total transformations, Photoshop offers a complete set of professional photography tools to turn your snapshots into works of art. Adjust, crop, remove objects, retouch, and repair old photos. Play with color, effects, and more to turn the ordinary into something extraordinary.
Works of art. Now a lot less work.
Design original illustrations, transform images into paintings, or create your own digital masterpiece. Make 3D artwork that you can animate or print. Enhance your work with unique patterns and eye-catching effects. Paint with smooth lines and curves using advanced brushes that work as fast as you can think.
System requirements:
The Intel® Pentium® 4 processor or AMD Athlon® 64 or 86 (2 GHz or faster)
Microsoft® Windows® 7 with Service Pack 1, Windows 8, or Windows 8.1
2 GB RAM
2 GB of free hard disk space for installation; During installation, additional free space is required (not installed on removable storage devices based on flash memory)
The monitor with a resolution of 1024x768 (recommended 1280x800), support for 16-bit color and 512 MB of video memory
System with OpenGL 2.0 support
Download links: