Aescript – Autokroma Influx v1.2.5 Win

2023-02-8

Plug-ins
/
VFX Plugins

343

0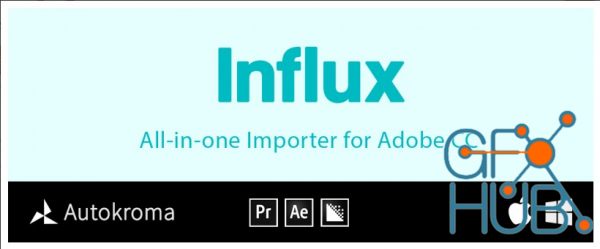 Aescript – Autokroma Influx v1.2.5 Win
All-in-one native Importer plugin for Adobe (Premiere Pro, After Effects and Media Encoder). Wide range of formats and codecs supported.
1.2.5 (Current version) - Feb 2, 2023
* On some footages, Influx has a hard time figuring out the correct range of colors, resulting sometimes in color shifts. As a workaround, for now you can force importing it as Full Range by suffixing your file with !color_range=full.influx (or shorter !cr=full.influx). You can also force importing it as Limited / TV Range by suffixing with !color_range=limited.influx (or shorter !cr=limited.influx). Please send us your footages with incorrect ranges !
* Influx will now reject importing some files if they are corrupted, instead of importing them then generating an error. Influx will also import video streams with incorrect duration as an Image
After Effects 2022, 2021, 2020, CC 2019
Audition 2022, 2021, 2020
Media Encoder 2022, 2021, 2020, CC 2019
Premiere 2022, 2021, 2020, CC 2019
http://aescripts.com/influx/
Download links:


Archive
« March 2023 »
Mon
Tue
Wed
Thu
Fri
Sat
Sun
1
2
3
4
5
6
7
8
9
10
11
12
13
14
15
16
17
18
19
20
21
22
23
24
25
26
27
28
29
30
31