Autokroma Influx 1.2.1 Win x64

2022-10-6

Plug-ins
/
VFX Plugins

281

0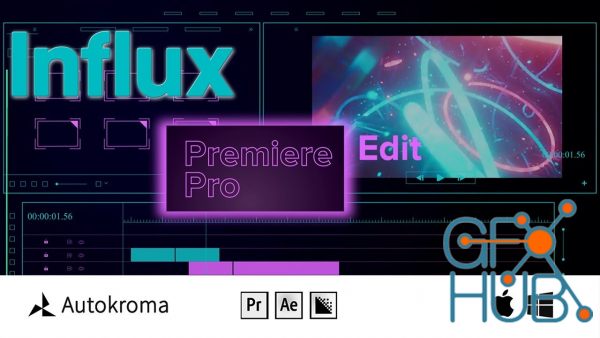 Autokroma Influx 1.2.1 Win x64
All-in-one native Importer plugin for Adobe (Premiere Pro, After Effects and Media Encoder). Wide range of formats and codecs supported.
Main Features
Native import directly inside Adobe CC Video
- No need to go through an external transcoding software anymore ! Saves you time, disk space and hassle
- Import and edit in Premiere Pro
- Process your footage directly in After Effects
- Export your PrPro and AEfx projects in Media Encoder, as well as transcode your files directly from AME
Wide range of formats and codecs supported
- Formats : .MKV (Matroska Video files, for example files recorded through OBS Studio), .WebM, Flash .FLV, .OGV, Bink .BIK, .AVI, - Quicktime .MOV, Windows Media .WMV, .VOB etc.
- Video codecs : FFV1, VP8, VP9, Canopus HQ, all commons codecs such as H.264 H.265 etc.
- Audio codecs : .FLAC .OPUS .OGG Vorbis, .MKA, .WMA etc.
- Same set of features and results on both macOS and Windows and all Adobe versions supported (2019 to 2022)
Constantly updated !
- We're here to fix your issues and update Influx.
- Contact us for any feedback and feature request !
- If you're interested in supporting MLV Magic Lantern RAW please read this article and this article for Blackmagic CinemaDNG.
COMPATIBILITY
After Effects - 2022, 2021, 2020, CC 2019
Audition - 2022, 2021, 2020
Media Encoder - 2022, 2021, 2020, CC 2019
Premiere - 2022, 2021, 2020, CC 2019
Whats New
* Support for After Effects, Premiere Pro, Media Encoder and Audition 2023 / v23
* Fixed
- Stability improvements (Thanks John !)
- Wrong internal framerate was used (Thanks Johannes)
- Some audio files couldn't be imported (Thanks Sammuel !)
- In rare cases the wrong frame was being decoded
* New option : you can suffix your file with !rft=1.influx (or !reset_first_timestamp=1.influx) in order to force Influx to import the file and set the timestamp of the first frame to 0, useful for weird or corrupted videos (Thanks Marco !). If your videos is corrupted we recommend re encoding them with Media Encoder (using Influx of course) and edit with this new file
* Some files are faster to import now, as well as performance improvements when decoding codecs such as Vidvox HAP, this will only apply to newly imported files. In old projects, you will need to reload each imported file to benefit from this
* Settings and License popup
- New checkbox to disable Influx frame cache
- New button to clear Premiere Pro cache, useful when you get weird behavior in PrPro and you want to reset it
- New checkbox to disable warnings in Premiere Pro about frames not being found (happens on variable framerate VFR files)
Download links: