Unity Asset – Low Poly Rocks Pack v1.2

2020-08-21

Game Development
/
Unity Assets

799

0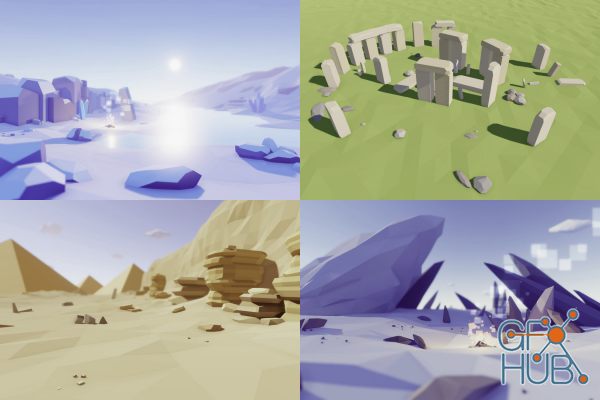 Unity Asset – Low Poly Rocks Pack v1.2
This package contains a huge variety of different rocks ready to use for your game levels. Just drag and drop prefabs to your scene and achieve beautiful results in no time. PC, mobile and VR friendly assets.
Optimized for
- PC
- Mobile
- VR
Supported Render Pipelines
- Standard
- LWRP (read included Documentation!)
- HDRP (read included Documentation!)
- URP (read included Documentation!)
PACKAGE CONTAINS
367 unique Low Poly Rock Prefabs:
- 47 Round Rocks
- 47 Flat Rocks
- 54 Sharp Rocks
- 70 Square Rocks
- 39 Block Rocks
- 37 Tiles
- 25 Bricks
- 30 Crystals
- 4 Rock Arches
- 7 Rock Walls
- 7 Stonehenge Rocks
+367 the same Rock Prefabs with a Snow!
-All Rock prefabs have Colliders attached. There are 2 types of Prefabs: with Mesh and Box Colliders. Prefabs with box colliders are compatible inside Terrain Editor and they are better in performance.
-All Rock prefabs use single Albedo 256x256 Texture Atlas and 1 Material.
-Crystals use 1 material without any textures, so you can change colors very fast and easy.
2 Rock types:
- 1 Color - default Rocks, one color per Rock.
- 2 Color - 2 colors per Rock. The first color is a base rock color, the second color is a snow by default, you can change it to any color like sand, moss, etc.
Also, you get 36 Bonus prefabs:
- 19 Tileable Ground planes
- 8 Mountains
- 1 Pyramid
- 3 Clouds
- 2 Fireplaces
- 1 Fire particles
- 1 Island (from Low Poly Modular Terrain Pack)
- 1 Water - static water plane (from Low Poly Modular Terrain Pack)
-All Bonus Prefabs has Colliders attached except Clouds, Water, and Fire particles.
TRIS COUNT
-Small Rocks vary from 8 to 64 tris per object.
-Medium Rocks vary from 12 to 100 per object - to 150 tris for cracked rocks.
-Large Rocks vary from 32 to 400 tris per object (like blocky rocks wall).
-Mountains vary from 430 to 1500 tris per object.
-All Small Ground planes (50x50 meters size) has 968 tris per object.
-All Medium Ground planes (100x100 meters size) has 3872 tris per object.
Asset Details:
Current Version: 1.2
More Info: https://assetstore.unity.com/packages/3d/environments/low-poly-rocks-pack-70164
Download links: