Nikon D3500 Users Manual – The Complete Beginner to Expert User Guide with Practical Steps to Maximizing your New Nikon D3500

2020-12-30

Books, magazines

239

0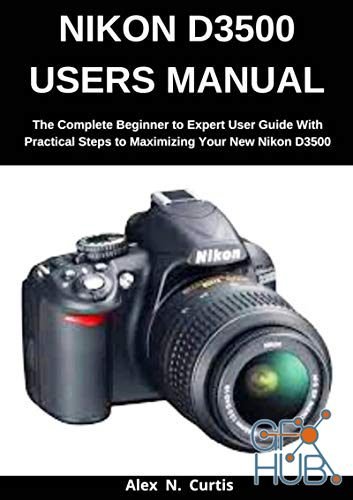 Nikon D3500 Users Manual – The Complete Beginner to Expert User Guide with Practical Steps to Maximizing your New Nikon D3500
The Nikon D3500 is a 24-mp entry-level DSLR that has an APS-C CMOS sensor that is much lighter, cheaper, and much longer battery duration than its predecessor, the D3400. The camera is made perfectly for individuals that are just getting into photography as it features a Guide Mode that teaches the handler how to shoot photography in different situations. The Key specifications of this version include: ISO range of 100-2500, EXPEED 4 image processor, 24 MP APS-C CMOS sensor, Bluetooth for transferring images to other devices, Battery rated at 1,550 shots per charge (CIPA), 921 k-dot fixed LCD screen, "Full HD" 1080/60p video capacity, ability to shoot continuously at five frames per second and lastly an 11-point autofocus system that works through the optical viewfinder.
Although the D3400 that the D3500 replaced is still a good camera, the D3500 makes things much better, and the new APS-C sensor it features is still one of the best you can find.
Similarly, the camera is made perfectly for both individuals that are just getting into photography as well as for professionals.
Hence, the essence of this user's manual it to teach you how to easily shoot and master photography in different situations.
Below are some of the topics this book will focus on
•Using USB Cable to connect the D3500 to a Computer
•How to transfer data with a USB cable
•Using a Memory Card Reader
•Going Wireless by using a Mobile App
•Getting a spare battery for your Nikon D3500
•Steps to take to Update your Nikon Firmware
•Tips and tricks to use the self timer mode
•Tips for taking pictures in burst mode
•Selecting a Focus Mode
•Other Info about focusing
•Using Autofocus in Live View
•How to use Focus Lock
•Manual Focusing
•What is Active D-Lightning from Nikon?
•Steps to Using Active D-Lightning On your Nikon Camera
•How You can Apple D-Lighting to Existing Photos
•Troubleshooting all common problems etc...
•And so much more…
English | ASIN: B08RJV3TWS | 2020 | 132 pages | EPUB, AZW, MOBI | 7 MB
Download links: