EVERYTHING NIKON Z9 – A-Z Mastery Guide for Exploring the Tools and Functionalities of Nikon Z9 Camera for Optimized Usage (EPUB)

2022-09-11

Books, magazines

46

0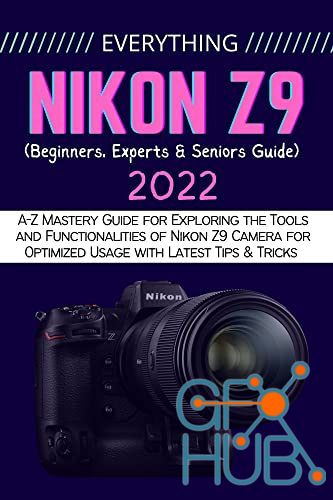 EVERYTHING NIKON Z9 – A-Z Mastery Guide for Exploring the Tools and Functionalities of Nikon Z9 Camera for Optimized Usage.
English | 2022 | ISBN: N/A | ASIN: B0BDJ8YCRD | 165 pages | EPUB | 5.25 Mb
Are you a photographer who requires a sturdy, heavy-duty camera for your photographs? Are you in search of a camera that can meet your desired wide range of settings and selections? Do you require a camera with a touch-enabled display, a control panel, a viewfinder display, and hard buttons? Are you tired of taking blurry pictures and wish you could reduce the vibrations that occur when you hold your camera for shots? Do you require a camera that can automatically track both static and moving subjects with just simple configurations that would give you your desired shot angles? Are you in search of a camera that holds your recently used settings so that you can easily go back to them rather than scrolling through multiple menus again? How about a camera that can record your location details such as altitude, longitude, and latitude? Have you heard of a camera that can allow you to take multiple shots of a single subject while you only determine what should be changed in each shot? Do you need a camera that can let you configure what action will be taken when you press the shutter? Look no further; the Nikon Z9 camera can take care of these needs and more!
The Nikon Z9 camera is a mirrorless camera that sports and professional wildlife photographers need. The Nikon Z9 is the first professional camera that comes without a mechanical shutter, making the Z9 completely dependent on an electronic shutter due to the Expeed 7 processor and stacked 45.7MP full-frame CMOS sensor. The camera also comes with a touch-enabled monitor that provides multiple controls that can be implemented by touching the monitor or display with your fingers. Equipped with a focus tracking system, the Autofocus system in the camera also features 3D tracking with accurate and fast calculations of around 120 cycles per second.
Whether you are new to the Nikon Z9 or have been using it for a long time, this guide will give you a solid foundation and background on the various functionalities and features packed in the Z9, as well as the external accessories and configurations needed to achieve optimal photographs and videos. Anyone without a background in photography and the use of cameras can use the Nikon Z9 with the lessons provided in this guide. Here's a peek at what this guide contains;
The Nikon Z9 Eye Sensor and Button for Screen Adjustment
Cautions When Using the Nikon Z9 Touch Controls
Accessing and Navigating the Menu System of Nikon Z9
Photo Recording Options in Nikon Z9
Selecting Autofocus Subject Types
Shooting Modes for Exposure in Nikon Z9
Adjusting ISO Sensitivity in Nikon Z9
The Frequently-Used Settings Menu (I Menu)
Frame Captures of High Speed (C30/C120)
Making Adjustments to White Balance
Making Modifications to Picture Controls
How to Reset the Nikon Z9 with Two Buttons
A Beginner's Guide to Playback and Photography with Nikon Z9
Flash Photography in Nikon Z9
Important Settings to be Mastered by Beginners
Using Playback in Nikon Z9
How to Attach a Strap to your Nikon Z9
Removing the Lens of the Camera
How to Add Items to My Menu
Cautions When Using Autofocus
Limitations of 3D-tracking
Adjusting Color Temperatures with the Camera Buttons
How to Cancel Flash and Exposure Bracketing
… and lots more
This guide further requires an understanding and practicing reader to ensure all-around satisfaction. Working and walking with this guide would in no little way make you a guru, and not just any guru, but a guru of all Nikon Z9 resources.
Download links: