Rising Polygon – Shading, Lighting, and Rendering Techniques with CINEMA 4D Studio R18

2018-03-2

Books, magazines

1 250

0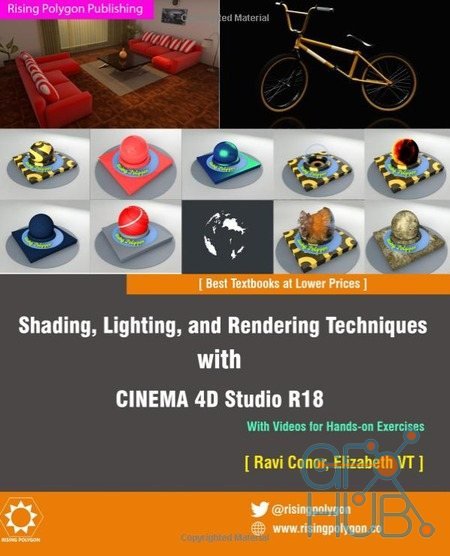 Rising Polygon – Shading, Lighting, and Rendering Techniques with CINEMA 4D Studio R18
What are the main features of the book?
The book is written using CINEMA 4D Studio R18 in an easy to understand language.
Shading, lighting, and rendering techniques covered.
The process of creating custom textures in Photoshop explained.
47 Hands-on exercises to hone your skills.
Videos for all hands-on exercises available for download.
Detailed coverage of tools and features.
Additional tips, guidance, and advice is provided.
Important terms are in bold face so that you never miss them.
Support for technical aspect of the book.
CINEMA 4D files and textures used are available for download from the accompanying website.
You will also get access to a ePub file that has the color images of the screenshots/diagrams used in this book. These images will help you to understand the HOEs and output. The ePub file is included with the resources.
How This Book Is Structured?
This book is divided into following units:
Unit CT1 - Introduction to UVW Mapping
UV Manager
UVs
UV Projection
Unit CT2 - Material Presets
Material Manager
Material Presets
Channels
Creating Materials
Blending Modes
Studio Light Setup
Physical Renderer
Unit CT3 - Creating Textures in Photoshop
Understanding non-destructive editing
Creating custom textures and designs
Creating custom diffuse, specular, bump, reflection, and normal maps
Unit CT4 - Creating Materials
Denim Material
Denim Material using Reflectance Model
Abstract Materials
Rust Material
Wood Materials
Concrete Material
Brick Material
Leather Materials
Rubber Material
Car paint Material
Unit CT5: Lighting
3-Point Lighting
Product Visualization
Interior Rendering
Download links: