ArtStation – Wall Maker 120 ZBrush Brushes, 60 Alphas, and 55 Pattern

2022-09-10

Zbrush, Substance tools

1 710

0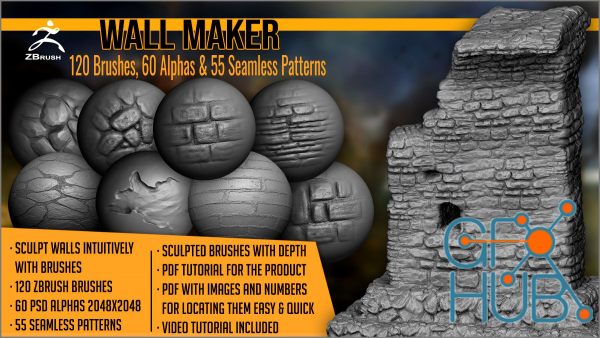 ArtStation – Wall Maker 120 ZBrush Brushes, 60 Alphas, and 55 Pattern.
Wall Maker is a complete pack for sculpting stone tiles and bricks on walls, floors and any architectural models. You can also make chipping walls of plaster or with bricks showing through the chippings.
Wall Maker includes 120 carefully sculpted ZBrush brushes, their 60 alphas for ZBrush, and 55 seamless texture patterns that you can use for texturing in any program, or inside ZBrush loading them with the Noise Surface file (also included).
This pack is a complete solution for stone and brick walls. You can use the brushes for artistically sculpt walls, or the patterns for making a very regular base for sculpting details later. You can build this way regular walls, ancient walls, boulder walls, brick walls, chipping walls, and use it for all kinds of architecture like buildings, ruins, temples, stone bridges, modern architecture, archways...
A must have for all architectural, interior and exterior building and sculpting with ZBrush!
FEATURES:
120 ZBrush brushes (60 DragRect, and 60 DragDot) for sculpting stone, bricks, chipping walls, and stonework masonry.
60 PSD Alphas for ZBrush, and 3D apps that support 3D alphas with setting of middle point. 2048x2048 pixels, 16 bits, grayscale, in PSD and JPG.
55 Seamless Patterns that you can use in any app for making regular stone, tiles and brick walls.
ZBrush Surface Noise file included for loading the patterns with base settings.
A PDF tutorial, that tells you how to use the brushes and patterns, and how to build chipping walls in plaster with or without bricks.
PDF index of the brushes and patterns to choose them easier.
A video tutorial, that you can also find on YouTube (in our channel), but is included in our product for your future reference.
Download links:


Archive
« September 2023 »
Mon
Tue
Wed
Thu
Fri
Sat
Sun
1
2
3
4
5
6
7
8
9
10
11
12
13
14
15
16
17
18
19
20
21
22
23
24
25
26
27
28
29
30