Film Composite – The Collection

2020-08-31

Video editing
/
Footages

846

0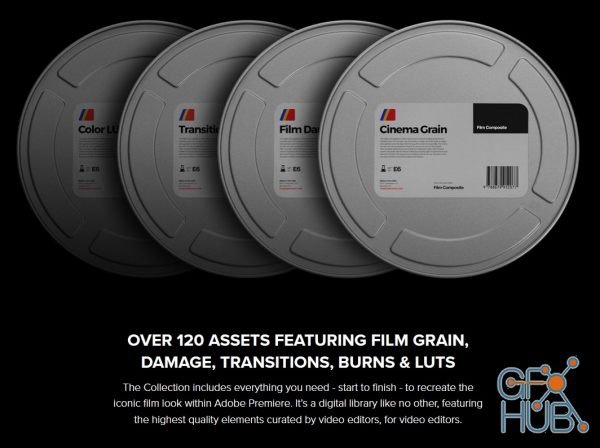 Film Composite – The Collection
OVER 120 ASSETS FEATURING FILM GRAIN, DAMAGE, TRANSITIONS, BURNS & LUTS
The Collection includes everything you need - start to finish - to recreate the iconic film look within Adobe Premiere. It's a digital library like no other, featuring the highest quality elements curated by video editors, for video editors.
PROJECT OVERVIEW
12 authentic film grain overlays shot on cinema stock
40 film damage elements sourced from vintage reels
40 video transitions + 10 film style burns
24 film color LUTs for grading
Processed and mastered in 4K ProRes
Use directly in Adobe Premiere
Video tutorials + PDF guides included
FEATURING
CINEMA FILM GRAIN
ADD RICH, AUTHENTIC FILM GRAIN TO YOUR VIDEO EDIT. FEATURING 12 ICONIC FILM STOCKS USED IN CINEMA.
Add real film grain to your video edit directly in Adobe Premiere. Cinema Film Grain features 12 unique film grain overlays, shot on film stock used in theatrical productions. Mastered in ProRes HQ 4K resolution.
ALSO FEATURING
RETRO FILM DAMAGE
ALL THE INGREDIENTS YOU NEED TO RECREATE A REALISTIC RETRO FILM LOOK.
Retro Film Damage features 40 authentic film damage elements in 4K, built for compositing. Includes dirt, dust, scratches, grunge, and much more - everything you need to recreate a realistic retro shot-on-film look.
ALSO FEATURING
TRANSITIONS + BURNS
40 RAPID FIRE TRANSITIONS TO ADD ENERGY TO YOUR EDIT + FILM BURNS TO ACCENT.
Film Transitions + Film Style Burns features 50 elements for transitioning and accenting your shots. Included are 3 transition categories: flares, grunge, and pre-roll along with 10 film style burns in a variety of colors.
AND FEATURING
FILM COLOR LUTS
COMPLETE THE LOOK WITH A COLLECTION OF LUTS BASED ON REAL FILM COLOR.
Film Color LUTs come with 24 unique film style grades in 4 categories: B&W, Cinema, Retro, and Soft. Complete the film composite with color. Use the LUTs directly in Adobe Premiere using the built in Lumetri Color Panel.
PRODUCT SPECS
• 126 Files Total
• 30GB Download
• ProRes HQ & 422 codec
• 3840x2160 Resolution
• Loopable Elements
• 12 Film Grain Overlays
• 40 Damage Overlays
• 40 Film Transitions
• 10 Film Style Burns
• 24 Film Color LUTs
• Video Tutorials Included
• Instant Download
• Adobe Premiere Ready
• Mac & Windows Compatible
• Easy to Use
Download links: