Udemy – Building Medieval Worlds – Unreal Engine 5 Modular Kitbash

2023-02-16

Video Tutorials
/
Game Development Tutorials

826

0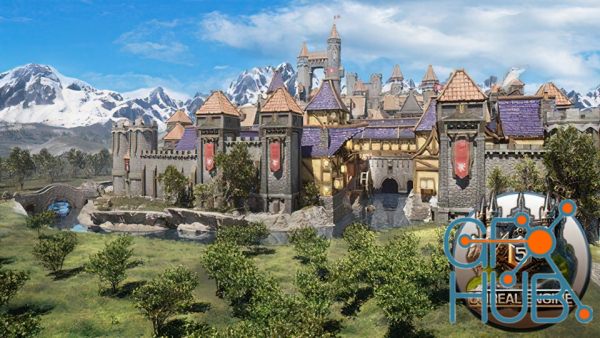 Unreal Engine 5 Build your own fantasy world | Learn how to create your own RPG
What you'll learn
• Learning unique techniques for modular assets for stylized structures
• Creating a functional water system with directional water flow and submergible boat assets
• Building a fully functional open-world landscape material including distance, noise masking, and automatic material transitions
• Assembling custom prop collections using blueprints to make your world alive
• Learning how to create large-scale structures in open-world environments
• Filling your world with animated, nanite-enabled foliage to enrich its nature side
• Sculpting terrain and optimising thermal erosion and hydro erosion to add natural detail to a landscape
• Creating (a) an automatic landscape based on a one-slope angle with mask height overlay, (b) castle tiles with rotation and scaling, and (c) landscape-painted
• Learning about snapping, free transform techniques, and structure modification
• Learning how to set up and generate for stairs to help your playable character interact better with the world
• Setting up an asset pack that can be easily imported onto any Unreal Engine 5 project
• Creating a dynamic light system using the addon blueprint
• Maintaining and optimising medieval Europe aesthetics for a full medieval stronghold castle keep or city scene using an Unreal Engine 5 skybox
• Complete the course which is going to be the first stepping-stone to creating your 3D world and RPG game environment
Requirements
• To own a computer (Microsoft, Linux or Mac)
• To have downloaded Unreal Engine 5
• A thirst to learn and excitement about 3D modelling, animation, and game engine integration
• To download all course resources including 241 Meshes, 4 flags with cloth physics enabled (these are part of the 241 items), a modular set with 327,549 faces / 491,516 tris, 35 PBR materials with emissive maps, 1 clean file with a new level that features nothing in it (all parts available in the content folder), and 9 references.
Description
Are you a 3D modelling artist, game designer or developer looking for a 3D model kitbash that will leave your eyes throbbing with creative excitement?
Join 'Build Stunning Medieval Worlds with UE5's Modular Kitbash' to take your game design skills up a notch! Learn how to use Unreal Engine 5 (UE5) to optimise a modular kitbash that will take your skills to the next level.
Immerse yourself and your players in a medieval fantasy world complete with iconic shop windows, moving flags, banners, market stalls and cobbled streets!
In a world where the boundaries between what is real or imagined are blurred by the ever-increasing skills of computer-generated imaging (CGI), we are giving you the power to create something HUGE!
A modular kitbash is a powerful tool in every 3D modeller's or game designer's toolbox. It helps you quickly and easily create intricate assets and environments using pieces based on a set of concrete variations.
Use 250 modular kitbash parts to build ANY medieval city, castle village or town better, bigger, and with more detail than ever before! Graduate to the next level of game design by learning all about the Blender to Unreal Engine 5 (UE5) professional workflow for medieval modular set pieces.
We have designed the course from the ground up to make sure that no matter your skill level, you will easily be able to follow along and more importantly learn most of the skills to create your 3D game environment.
Our 'Build Stunning Medieval Worlds with UE5's Modular Kitbash' top 6 points:
1. Learning unique techniques for modular assets for stylized structures;
2. Creating a functional water system with directional water flow and submergible boat assets;
3. Building a fully functional open-world landscape material including distance, noise masking, and automatic material transitions
4. Assembling custom prop collections using blueprints to make your world alive;
5. Learning how to create large-scale structures in open-world environments;
6. Filling your world with animated, nanite-enabled foliage to enrich its nature side.
Unreal Engine 5
This course is a full guide to using UE5 to plan out and create large-scale cities from the get-go.
Every modular kitbash asset and every single one of the building parts has been carefully crafted and optimised to work with the latest version of one of the biggest game engines out there – Unreal Engine 5. Hand-in-hand with UE5, the possibilities can become endless and you can tailor everything to your vision.
With 'Build Stunning Medieval Worlds with UE5's Modular Kitbash', you will build a stylized environment that would leave someone second-guessing whether it is real or not.
Using the same pieces, you could build a cathedral or a castle or a house and a shop.
https://www.udemy.com/course/building-medieval-worlds-unreal-engine-5-modular-kitbash/
Download links: