Udemy – Unity Multiplayer Fps Game: Steam & Mirror (No CCU limit)

2023-02-8

Video Tutorials
/
Game Development Tutorials

283

0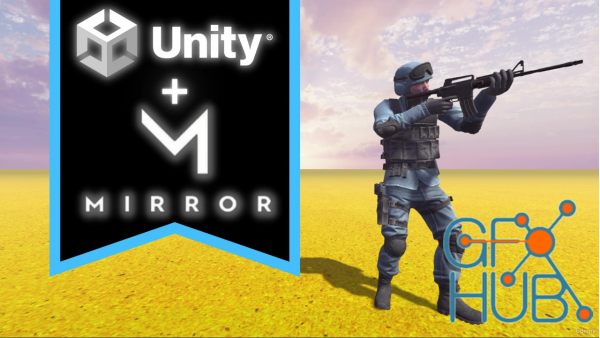 No upper limit of players,unlimited. Fundamentals of multiplayer game development. Unity & Steam & Mirror Networking
What you'll learn
Making multiplayer games using Unity and Mirror.
Learning the principles of multiplayer game development.
Writing codes for server and clients.
Creating a good looking and fundemental lobby to help matchmaking.
Creating a working FPS game designed for 2 players without an upper limit of players!
Using Steam to play with friends.
Spawning players in the game scene, syncronizing player movement, first person basics like fps hands, syncronizing animations, respawning players
Creating a good looking game environment.
Requirements
No experience needed. A little bit of Unity experience might help to understand better but is not necessary.
Description
Have you ever wanted to build your own multiplayer shooter games that are popular like CSGO, Valorant, Fortnite? You have come to the right place.In this course, we will be covering multiplayer basics and some advanced stuff and this course is suitable for all levels.We will be using Mirror and Steam together so you will be able to play with your friends.Mirror is a free library for multiplayer game development and has no upper limit of players (unlimited CCU) so you can create your own multiplayer game and spend no money for the server. And since we are using Steam API for matchmaking, you won't spend any money on matchmaking as well. A lot of professional game developers are using this technique and it is quite useful for indie game developers, people who don't have big budgets and beginners.Throughout the course, we will build a 2 player fps game and by doing so you will learn a lot of things like, creating a lobby, instantiating player in the game scene, synchronizing player movement and health, first person basics like fps hands, synchronizing animations, respawning players and a lot of other cool stuff.So why don't you come and join me on this Multiplayer Game Journey? Let's get wiser together.
Who this course is for
This course is for people who want to create multiplayer games.
Download links:


Archive
« March 2023 »
Mon
Tue
Wed
Thu
Fri
Sat
Sun
1
2
3
4
5
6
7
8
9
10
11
12
13
14
15
16
17
18
19
20
21
22
23
24
25
26
27
28
29
30
31