Udemy – #1 Unity Hyper Casual Cricket Mobile Game using C#

2022-11-18

Video Tutorials
/
Game Development Tutorials

152

0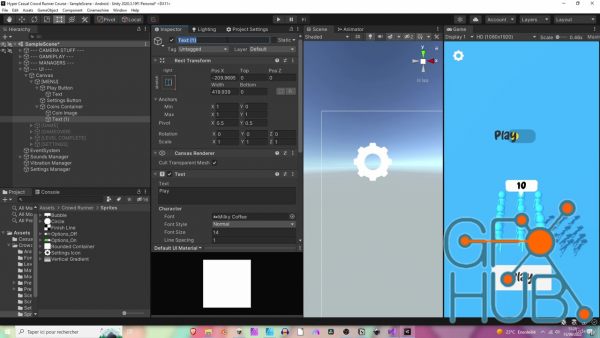 Create your very First Cricket Game & Monetize it with Unity Ads !
What you'll learn
How to make an advanced Cricket Game
How to track & fix bugs
How to setup your project for mobile
How to get / make the assets you'll need for your Game
How to Switch between scenes & manage Transitions
How to add a bit of Polish to your game
Requirements
Determination
Positive Thinking
Focus
Description
In this course, you will learn how to make a cool and fun Hyper Casual Cricket Mobile Game!Together, we will go through the various processes used in Mobile Game Dev to bring your ideas to life.We will Create a Complete, Fully Functional, Ready to Publish game in less than 13 hours.By taking this course, you will learn how to:Create a similar game by yourselfAnimate Hyper Casual 3D Models Control any object with your fingers (on the phone of course, you're not an X-Men)Detect Simple Collisions and apply a certain LogicControl the flow of your game ! Make Managers ! Like in the real life that will help you control the flow of your gameCreate UI ElementsAdd Currency into your gameDetect more complex collisionsUse & Experiment with Shader GraphImplement Unity Ads and add Rewarded VideosThis is only a small overview of what you'll learn, there is so much more in the course, it's 13 hours of Content ! The most important thing is that you'll learn, A LOT ! And if you happen to have any questions, I will take your hand and Help until you clearly understand why I wrote or did this instead of that. I want YOU to learn because Making Games is Easy & Fun :)So if you want to impress your friends, have a good time making your own game, self publish your game and make money, publish the next Hit game with a big publisher, or just add a bunch of information to your brain's knowledge database, this course is for you!Don't wait anymore, and Enroll Now !
Who this course is for
Aspiring game devs willing to make their own mobile game
Cricket fans desiring to create a fan game
Download links: