New Masters Academy – Perspective I with Erik Olson (Live Class)

2022-09-20

Video Tutorials
/
Drawing/Painting tuts

373

0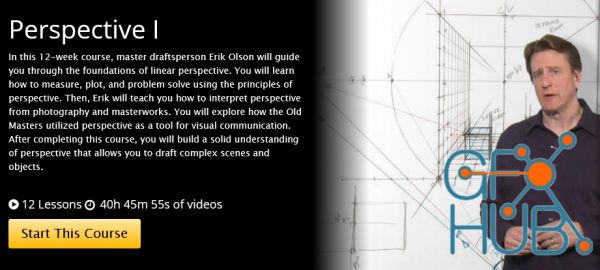 New Masters Academy – Perspective I with Erik Olson (Live Class) April 2022.
In this 12-week Live Class, master draftsperson Erik Olson will guide you through the foundations of linear perspective. You will learn how to measure, plot, and problem solve using the principles of perspective.
Erik will teach you how to interpret perspective from photography and masterworks. You will explore how the Old Masters utilized perspective as a tool for visual communication.
After completing this class, you will have gained a solid understanding of perspective that allows you to draft complex scenes and objects from imagination.
This Live Class will run for 13 weeks. The first week is an introduction and the following 12 weeks will line up with the pre-recorded content. The first hour of class is reserved for Office Hours.
Class runs every Wednesday from 2pm - 4pm PT starting April 6th, 2022.
This class provides critiques and instructor feedback for Perspective I with Erik Olson
Download links: