Udemy – Creating Creative Gif Animation in AfterEffects &Illustartor

2022-12-13

Video Tutorials
/
After Effects/Motion Graphics tuts

323

0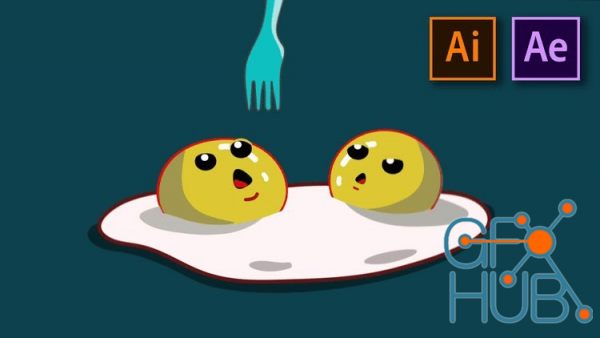 Create a creative looping Animation in After Effects& Ilustrator to Became Perfect Motion Graphic Designer & Illustartor
What you'll learn
Drawing Shapes In Illustartor
Creating Characters In Illustartor
Animating Shapes In After Effects
Techniques for Smooth Fun Animations.
How to parent layers.
How to create a simple looping animation.
Exporting a your animation as Gif Format
By The End of this Course you will have a Great Understanding of how to Create Creative Gif Animations
Requirements
You'll need Adobe After Effects,Illustartor
This course is perfect for beginner to Advanced Level. This course lets you follow along through a step by step process.
Description
If you are interested in becoming an  Character illustrator& animator or motion graphics designer then this is a great course for you. Creating Creative Gif Animations for beginners to Advanced Level Artists has been created with the beginner in mind. We'll cover everything step by step so you can follow along, including.If You are Graphic Designer or Motion Graphic Designer or Character Illustrator This Course is For You Creating Shapes In IllustratorDrawing Characters in IllustratorImporting Illustrator File in After effectsConverting Illustrator Files to Shaper LayersAnimating Shapes In After EffectsAnimating With Expressions in After Effects Parenting in After EffectsAdjusting Graph Editor In After Effects Keyframe Smoothing in After EffectsWorking With Track MattesWorking with Time Remapping in After Effects Working with Various Tools Exporting in Gif FormatBy the end of this course, you'll learn new skills and be able to create your very own Creative Gif AnimationsAnd You can Share Your Gif animation in Your Own Social MediaHi, my name is Venkatesh Chennu  and I am a motion graphics designer and 3d Artist with 10 years of Experience  I have worked on animation  studios  and Design studios and i worked as freelancer for a lot clients across the Globe .Am Here To Share my Experience with you all
Who this course is for
Beginner Animators, Motion Graphic Artists, Explainer Video Designers, Social media creators,Chracter Illustrators,& Graphic Designers
Homepage
Download links:


Archive
« March 2023 »
Mon
Tue
Wed
Thu
Fri
Sat
Sun
1
2
3
4
5
6
7
8
9
10
11
12
13
14
15
16
17
18
19
20
21
22
23
24
25
26
27
28
29
30
31