Game Ready Triple Barrel hand cannon

2021-10-13

Tutorials

479

0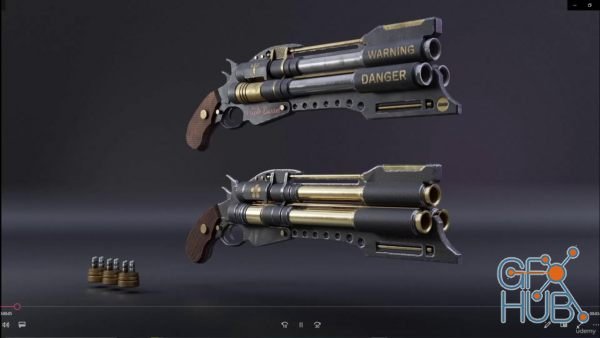 Udemy - Game Ready Triple Barrel hand cannon
Game Ready Gun. Blender, Substance painter, Making a game ready gun inside of blender, Blender modeling
What you'll learn:
The basics of blender and substance painter
Modeling
Textering
Baking
Uv unwrapping
Boolens and bevel modifiers
How to make a game ready gun
Requirements
blender
Substance painter
Description
Hello there I am 3d artist. I would like to Show you how to make a game ready Triple barrel hand cannon. We will go through the hole Process from blender to Substance painter, First ill teach you everything you need to know about blender and what we need to know for this course, You will learn all about mirror modifiers, Bevel, Boolen and more. I will then show you how to install addons and use them, We will start modeling the gun from start to finish the I explain what I'm doing and ill be giving a free short cut page to everyone who purchase this course, (I made it my self :)). We will start with the barrel and move out through the gun. You will also learn how to do Uv unwrapping. We ill then clean up the gun and make sure its ready for Substance painter. We will export a low and a high poly version of the gun and bake it in Substance painter, Once we are done with baking ill go through were to download texters and Ill show you how I make 2 different skins for the gun. When we finish in Substance painter we will export the texters and get ready for Rendering, as bonus we will texters the bullets for the gun. Finely we will render a nice photo for our portfolio.
Who this course is for
beginners are welcome as well as intermediate users
Free download links for «Game Ready Triple Barrel hand cannon»: