Udemy – Introduction to Automotive Design

2020-12-26

Video Tutorials

415

0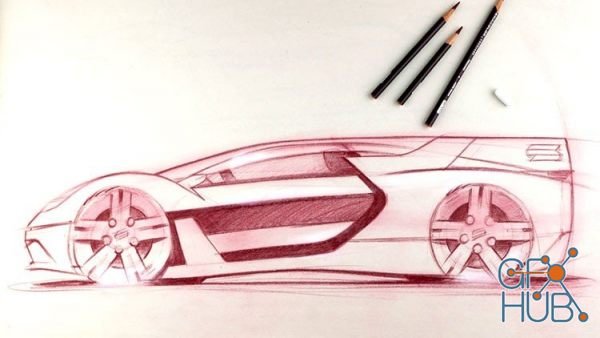 Udemy – Introduction to Automotive Design
Professional Techniques, Tips, Tricks and Secrets for the Aspiring Car Designer What you'll learn:
You'll be able to take your car design drawings to the next level and beyond
You'll learn to draw wheels faster, better and more accurately
You'll learn the most important drawing technique of professional car designers to radically improve your sketches
You'll learn the importance of speed forms for developing your car design drawing technique
You'll learn what materials are the best for sketching your ideas and how to maximize them
You'll learn the techniques for laying out a great side view sketches including proportion
You'll learn where professional car designs get their inspiration from and how you can get inspired too
You'll learn the vocabulary of automotive design so you'll know what you're talking about
Requirements
A burning passion for cars
A burning passion for design
A burning passion to improve your skills
The ability to work very hard toward achieving your goals
Basic art supplies: something to draw with and something to draw on.
Preferred materials: 18 x 24 smooth newsprint pad, soft lead colored pencils, ruler or T-square, tissue and kneaded eraser
Description
This course provides the student with the basic foundation for creating professional car design drawings and an understanding of automotive design terms. Automotive design is one of the most competitive and difficult creative fields. Any chance you can give yourself to increase your opportunity to be successful should be taken. This course is that chance.
The lectures cover the following:
Why drawing cars is different than other types of drawing and how to do it like a pro
The secrets of drawing circles and ellipses
Why you need to draw speed forms
Where car designer get their inspiration
How to structure your side views to take your sketches to the next level
The language of automotive design
These lessons are the same coursework that is taught at major design colleges and universities around the world. This course gives you head start or will help you improve your skills for a fraction of the price.
Who this course is for
Aspiring, young car designers
Someone looking to change careers and become a professional car designer
Anyone looking to prepare a portfolio for admission into a design school
Anyone getting ready to apply for scholarships to design school
Anyone looking to improve their drawing abilities for product or transportation design
Anyone interested in cars, design and / or drawing
Download links: