3darchstuffs – Scandinavian House Photorealistic Realtime Visualization in Unreal Engine Complete tutorial Step by Step

2020-10-7

Video Tutorials

1 343

0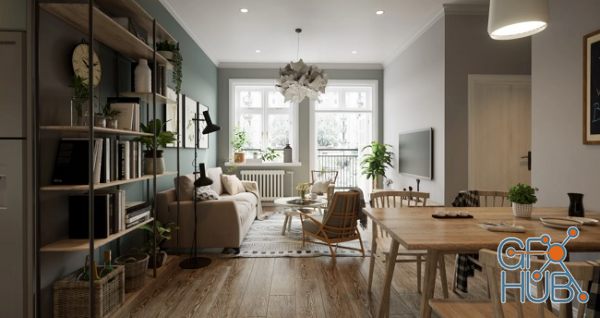 3darchstuffs – Scandinavian House Photorealistic Realtime Visualization in Unreal Engine Complete tutorial Step by Step
DESCRIPTION:
Learn how to showcase an architectural design in real time, using the Unreal Engine 4. Unreal is known for photorealistic Realtime due to its robust lighting and physically based materials, and its tools work equally well for highly detailed and interactive architectural renderings. This course will guide you through optimizing, exporting, importing model elements and setting up components for basic interactivity. From there, we will create and apply realistic lighting and materials.
ABOUT THE AUTHOR:
I'm SUNIL KUMAR having experience of more than 6 years doing Realtime arch viz in unreal engine for various clients across the globe, and successfully taught archviz in unreal engine to 6 students online one to one live training. I live in New Delhi India and have the dream of inspiring and helping others achieve their dreams… whether that's creating the photorealistic real-time architectural visualization or cool VR applications. I live and breathe a passion for technology in all forms with my main area of interest being real-time architectural visualization!
COURSE OUTLINE:
In this course, you will learn everything you need to know about architectural visualization using real time technology with Unreal Engine (UE4), the most advanced and professional real time tool available to arch viz artists (It's also free). You will also make use of Data smith, a tool designed to translate your 3d rendering projects into real time (projects can come from 3ds Max, Blender 3D, Revit, SketchUp, etc.) The course will be split into several small sections, with some sections coming later as software and techniques evolve.
ABOUT THE COURSE:
welcome to Photorealistic Interior Visualization in the Unreal Engine. In this course we'll look at taking a completely modeled and textured interior 3D model of a house into the Unreal Engine, and constructing a interactive design visualization. I'll start by showing you how to optimize, export, import models and create materials and then we'll light the space, learning about global illumination and bounce lighting in unreal engine from scratch. We'll see how to create soft lighting and HDRI on skylight to best accent the design. We'll be covering all these features plus plenty of other tools and techniques. Now let's get started with Photorealistic Interior Visualization in the Unreal Engine.
TOPICS INCLUDED: In this tutorial series you will learn the entire process of producing photoreal interior REALTIME WALK THOUGH with UNREAL ENGINE.
Setting up 3ds max.
Examining your model.
Optimizing and cleaning up the scene in max before exporting to UNREAL ENGINE.
Properly export the assets with the correct scale using the data smith plugins.
Creating new project in unreal engine.
Optimizing our Project in unreal engine for arch viz scene.
Importing our geometry using data smith plugin.
Basic lighting of the scene using HDRi on skylight to test the whole scene for bugs and errors.
Adjusting post process volume temporarily to spot and identifying all the bugs and errors in the scene in unreal engine after the first light bake.
Correcting all the bugs and errors of the models in 3ds max.
Bringing the corrected models in our unreal engine scene.
Setting up detailed Interior lighting of the scene in unreal.
Rendering the scene on medium quality.
Adjusting the post process volume according the lighting of the scene to Get PHOTO-REALISTIC LOOK in Real TIME!
Increasing the light mass resolution and rendering the scene on medium quality.
Installing the GPU light mass and explaining the various quality settings in GPU light mass.
Modifying and optimizing the ue4 materials to look as good as possible.
Creating custom materials for glass, chrome, wall, leaves, wood, Glow etc.
Baking the scene on final quality.
Customizing the third-person player controller for smooth walkthrough experience.
Create Realtime Architectural Walkthrough in Unreal Engine.
Much More.
WHAT YOU WILL GET?
Max scenes to follow every step.
Personal 1:1 SUPPORT on skype and messenger.
Video Tutorials around 9 hours long in 8 parts that covers Step-By-Step Video Instructions of the entire process.
Download links: