Udemy – Modeling A Game Asset Castle In Blender

2023-02-16

Video Tutorials
/
3D Tutorials

1 264

0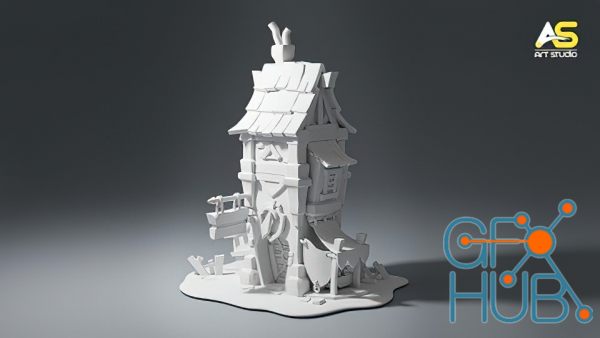 This is an extensive Modeling guide to create any stylized house, castle and low-poly game assets
What you'll learn
Use Blender and understand it's interface
Project files is included
Modeling and create different low-poly assets
A lot of cool shortcuts and techniques of modeling
Stylized game assets
Requirements
Mac or PC capable of Running Blender Version 3.1 or above
You will learn all of the tools that will be needed for this course.
Description
This is an extensive video guide for those who want to learn ins and outs of Modeling in blender to create any stylized house or castle and as well low-poly assets for games.
From a time, game never have been stopped. People and companies are producing new video games every day and there is a lot of clients that searching after good artists to hire them with good salary and benefits. So, while modeling is a good opportunity to make money and make contact with other side of the world, why not start learn it today?
With free blender you can create any cool game assets, special low-poly modeling which is another our goal in this course.
I believe in this course is a list of techniques that must be known and if you use more or some of the boxes in this list, it will immediately improve the result of creating Stylized low-poly assets. And fortunately, everyone can learn this quickly.
Welcome to Modeling a stylized castle in blender a premium course that offers a step-by-step guide to modeling assets and props that can be used in games.
all the models and blender scenes that are needed for following along the videos or just checking the final result, come along with the course and will be available for downloading.
As for the difficulty answering the question is this course for me? I tried to teach everything step by step, special in the first chapter.
I already created the second part of this course which in that course I am going to teach you the texturing and cinematic lighting in Blender to make every scene look professional and as well cinematic! So, take a look at that!
If you get stuck, I am here to help you to get unstuck. If you have any questions, feel free to reach out to me by email. And really any questions or any constructive criticism to help me to improv my instructions, which is going to help you to understand my intensions while I'm teaching you, is always appreciated! At the end I am open to work. Thank you so much and welcome
Download links:


Archive
« September 2023 »
Mon
Tue
Wed
Thu
Fri
Sat
Sun
1
2
3
4
5
6
7
8
9
10
11
12
13
14
15
16
17
18
19
20
21
22
23
24
25
26
27
28
29
30