Udemy – 3ds Max + Vray : Interior & Exterior Night Renders

2023-02-2

Video Tutorials
/
3D Tutorials

754

0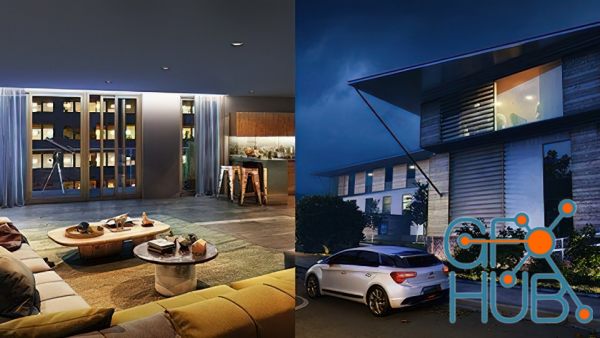 3d+3ds max + 3d Rendering + V-Ray+3d Lighting+Shading/Texturing + Photorealistic Interior/Exterior + 3dsmax+ Photoshop
What you'll learn
Learn Groundbreaking Techniques on how to Turn Interior and Exterior Daylight Scenes into Night ones Photo-Realistically with V-Ray & 3ds Max
Tweak Shaders Realistically
Fine-tune Procedurally
In-Depth understanding of VRay Rendering parameters and how to Render Interiors & Exteriors Photo-Realistically
Unmatched Award Winning Post-Production Techniques
Learn to Tweak 3d models and Modifiers
Learn to Create and manage Render Elements
ETC
Requirements
This course is Tailored to Intermediate and Advanced users
You should watch my previews Interior and Exterior Daylight courses
You need to possess a copy of 3ds Max, VRay and Photoshop
64 bit Windows operating system
Basic computer knowledge
Description
This detailed step-by-step course guides users through the meticulous process of converting daylight Interior & Exteriors scenes into Night ones, whilst fine-tuning the Lights, Shaders, Textures, Renders, and the PostProduction ; using 3ds Max, Vray and Photoshop.
Furthermore, the course comes with Project Files, 3d Models, Textures, PSD files (Photoshop), and much more.
The full course is HD (1920X1080) with custom captions/subtitles, and can be streamed from your mobile (enable full HD and CC).
Alternatively, you can download to watch them from your computer (VLC media player allows users to load captions/subtitles) .
Download links:


Archive
« June 2023 »
Mon
Tue
Wed
Thu
Fri
Sat
Sun
1
2
3
4
5
6
7
8
9
10
11
12
13
14
15
16
17
18
19
20
21
22
23
24
25
26
27
28
29
30