Udemy – Solidworks: A Quick Beginners Course 2021-23

2023-01-26

Video Tutorials
/
3D Tutorials

242

0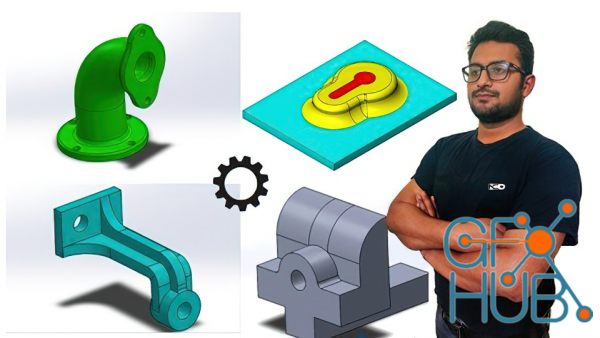 Learn Part Design, Assembly, Simulation & Drawings with Practical Examples, Quizzes & Hands-On Training.
What you'll learn
Confidently able to create Basic & Complex parts.
Able to apply colors, textures, materials parts.
Able to make Assembly and able to simulate them.
Able to make drawings of both parts and assembly.
Project Works for Better Understanding.
Requirements
No prior knowledge required, just need desire to learn.
Any Version of SolidWorks after 2013.
Description
This is a full-length Quick course on SolidWorks Basic. This course will take you on a journey from nothing to a "Professional SolidWorks Designer." We have tried to make this course such that it will guide you through all the important topics that is necessary for you to get started with SolidWorks, This course is made on SolidWorks 2021. Since it's a completely new version in SolidWorks so you will not face any problem with the older version as well as the new version. ============================================================Why you should take this course?Firstly this course is made by the professional expert, who has more than 5 years of teaching experience and he knows how to make student understand every tools and topics.There are 60+ Lectures covering almost all the tools that is important for Modelling in SolidWorks.This Course is made using SolidWorks 2021 which is having the latest interface, this will help you in understanding the new interface of SolidWorks.We keep on upgrading this course according to the feedback of the students, and all the upgrades are always free once you enrolled.This course contains a lot of practical examples that will help you learning in a better way.Topics That We Cover In this Course.Sketcher: We will learn basic tools that are required for sketching your 2D Designs, We will learn about basic shapes, basic modification tools, and some advanced toolsPart Design: This Module is the most important section in SolidWorks Since part modeling is what SolidWorks is famous for, So in this section, we will spend a little more time learning all the basics of part modeling in SolidWorks.Assembly Designs: Assembly is yet another important topic in which we will learn how to assemble parts and sub-assemblies to create a complete product. Here we will be going to use different constraints for our assemblies, we are also going to learn the basic of simulations.Drafting: In this, we will going to learn to produce our model into the drawing sheets with different views, like Standard Views, Section Views, etc. We are also going to see various annotations like Dimension, text, etc.Overview of What you will learn?Brief understanding of the interface of the SolidWorks.How to create sketches using different sketch tools.How to use relations to define your sketch.How to create solid models with different Modelling tools like, Extrude, Revolve, Loft, etc.How to create User Defined references, like Reference Plane, Points & Line.How to apply textures of metals, plastics, rubber, etc. to the parts and product.How to use Different Pattern tools available in SolidWorks.We will cover some advance modelling tools, like Lofted Boss/Cuts, Multi-Shell, Helix, etc.How to assemble the parts in Assembly design workbench.After Assembly, we will simulate the product with Motion Study Interface.Finally we end this course with Drafting, we create standard drafting using First & Third angle projections.We will see different view tools, like Section View, Projection View, etc.We will learn different annotations like dimensions, text, leader.We will also learn to create Assembly drafting.So, Overall it's a good course to learn SolidWorks. And Don't worry about your doubts, we are always there to help you during this course, Just Ask!
Download links:


Archive
« March 2023 »
Mon
Tue
Wed
Thu
Fri
Sat
Sun
1
2
3
4
5
6
7
8
9
10
11
12
13
14
15
16
17
18
19
20
21
22
23
24
25
26
27
28
29
30
31