Udemy – Lumion: The Hidden Secrets to Amazing Photorealistic Renders

2023-01-6

Video Tutorials
/
3D Tutorials

419

0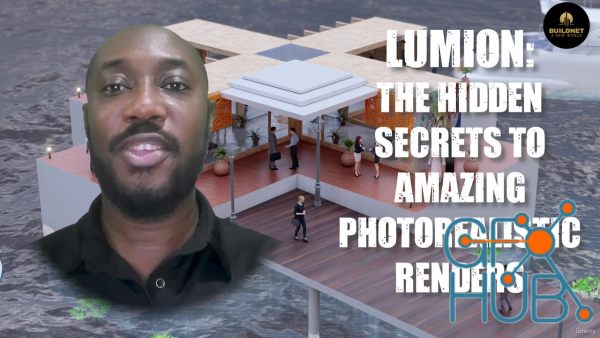 Find out the hidden secrets for creating stunning photorealistic renders that the great visualizers keep as a secret
What you'll learn
Create mind-blowing renders of the highest quality, displaying beautiful photorealistic images and professional well-planned animated videos of scenes
Dive deep into the hidden tools that can bring 3D scenes to life and create the most amazing scenes that will get clients drooling over the scene quality
Take advantage of the best in-program photorealistic render capabilities, bringing renders to life whether they be daytime or nighttime scenes
Understand how to use the assets, props, tools and effects within Lumion to populate scenes that would usually look boring if rendered by other people
Requirements
No previous experience needed. The course is designed to take you from knowing absolutely nothing in Lumion to making you one of the best visualisers in the game in less than 7 days.
Description
The course Lumion: The Hidden Secrets to Amazing Photorealistic Renders is the only course available that takes learners on a deep dive to know the hidden details and assets available to creatives in order for them to composite, texture, light and render 3D scenes in the most creative ways. The course is broken into easy-to-understand bits that helps learners to follow along easily and focus on the objectives at hand. By the end of the course, learners will be able to: Understand the Lumion interface and also be able to navigate their way around the program easily Use the right props and assets to bring their 3D scenes to life and make them look interestingProduce the most breathtaking photorealistic renders using secret settings most people don't know aboutKnow which secret render settings best suit different world regions and times of the dayUnderstand how to adjust render settings to suit interior renders and exterior rendersBecause most courses want to teach the rendering techniques only, they ignore first of all taking the learners through the assets, materials and effects library. This course however takes the learners through the process of knowing where each of these features may be found, making them better positioned to find these items and use them creatively when and how needed.As the title of the course suggests, what the course tackles are secrets that the best visualizers do not usually share. With a successful completion of the course, the learner would know, understand and be able to employ these secrets to unravel difficult and challenging projects, and in the process win the trust and admiration of the clients and colleagues as they churn the best photorealistic renders one after the other.
Who this course is for
This Lumion course is for absolute beginners who want to kickstart a career in 3D Visualization, as well as those who are already using it but need to understand it better to create mind-blowing renders.
Download links: