Udemy – SolidWorks Beginners Course – Learn from an expert!

2022-12-28

Video Tutorials
/
3D Tutorials

166

0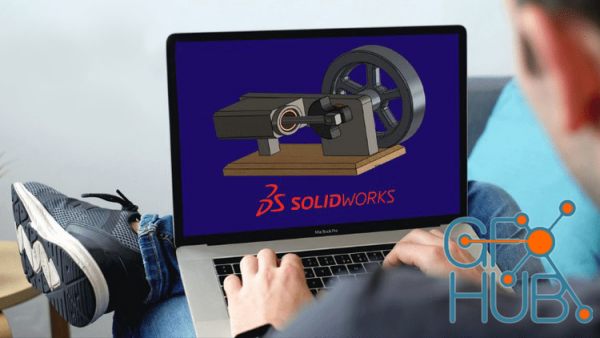 Learn from Certified SolidWorks Expert (CSWE), Award Winning Teacher and a Professional UK Engineer
What you'll learn
A Simplified SolidWorks Modelling Process To Help You Build Any Part No Matter How Complex Its Geometry
How To Build A Range Of Realistic Virtual Models Within SolidWorks
Create A Working Steam Engine Assembly With Realistic Motion
Develop A Technical Drawing Pack From Your Models and Assemblies
Edit and Create Parts In The Assembly Mode
Requirements
No experience needed, you will learn everything you need in this course.
Access to SolidWorks 2018 or higher.
Description
SOLIDWORKS expert teaches you how to save time and money on your path to becoming a SOLIDWORKS Professional.Learn the skills of professional SOLIDWORKS users.We will show you a tried and tested process to make parts in SOLIDWORKS that will empower you to quickly make your own designs easily and effortlessly.LEARN BY MODELLING REAL-WORLD EXAMPLES, NOT USELESS WIDGETS.Our previous SolidWorks clients include professionals from:Rolls RoyceAirbusGE AviationRenishawJaguar Land-RoverGKN AerospaceSaint GobainMoogYou Will Build A Working Steam Engine!The little Steam Engine allows you to start modelling very basic parts, to allow you to get to grips with the fundamental skills you need without overload, before building up into more complexity one model at a time. Each part adds a little more complexity than the previous one, finally resulting in the creation of the Flywheel. You will then mate the parts together, and create edits, in the assembly mode before making a new contextual part from the assembly. Finally, you will be introduced to creating technical drawings.This is really the perfect starting point to nail the basics of SOLIDWORKS.Why you need this course:15 years ago I decided to apply for a Design Engineer job for a small rural company in the heart of England, UK. The job advert stated that "experience in designing with SOLIDWORKS was essential".I had never used SOLIDWORKS....so I did what most would do - I got a free 30-day trial and went to YouTube to learn. I slowly and painfully followed a sped-up tutorial that had no commentary, built an alloy wheel, took a screenshot and sent it in with my application form stating that I had some experience using SOLIDWORKS.It worked and I was offered the job (I also had lots of experience working as a production engineer so didn't completely wing it!).Day 1 of being a SOLIDWORKS Design Engineer. "Hi, can you quickly model this block and put an M10 through hole in the middle" came the request from my supervisor. I couldn't do it. I was found out.REASON #1Following sped-up videos on YouTube may get you some results, but they do not teach you how to use the SOLIDWORKS software for YOURSELF.Although disappointed, the company paired me with another designer for a few weeks to get me trained quickly (and cheaply). He built the block with a hole in less than 2 minutes.I was trained to use SOLIDWORKS the same way as the other 4 designers in the team. This was okay but common issues kept coming up: editing parts was troublesome, persistent issues with part relationships and mates in assemblies and creating technical drawings often took longer than designing the parts. I assumed this was just how SOLIDWORKS was.REASON #2Too many SOLIDWORKS users learn poor techniques from people who can't use the software properly themselves!12 months later, I landed a new job as a college lecturer in engineering (I also had previous experience working as a lecturer). Part of my new job was to teach 16-18-year-olds how to use SOLIDWORKS. No problem.A colleague then introduced me to the SOLIDWORKS certification program. "I will smash this" I confidently said and sat the CSWA (Certified SOLIDWORKS Associate) exam. I failed it. Oops.REASON #3Poor SOLIDWORKS techniques will cause persistent problems. I can teach you an effective and efficient technique that minimises errors and simplifies the modelling process.I realised the troubles I had with SOLIDWORKS weren't due to the software but because I had been taught some very poor techniques. How could I teach anyone if I couldn't pass the basic exam? From this moment, I decided that I would relearn SOLIDWORKS from the ground up. Now I have:15 years of teaching experience2500 students successfully taught100s of professional engineers taught8 SOLIDWORKS exams passed, including the CSWE (Certified Expert)Along this path, I have realised that there are some key ingredients that are essential to building an understanding of how to be effective in SOLIDWORKS:Application: Understanding how the software and its functions work enables you to select and use the most appropriate tools.Process: Having a clear process to follow enables you to effectively break down the modelling task into a set of micro-tasks, no matter how complex or simplistic your model's geometry is.Intent: Building in design intent to gain maximum control and flexibility with your geometry will level up your modelling abilities to make you a more efficient and effective SOLIDWORKS user.REASON #4My vast experience in delivering SOLIDWORKS courses to thousands of people has enabled me to develop a process that anyone can follow to create complex geometry.This is the course I wish I had when I started to learn SOLIDWORKS.Sign Up NOW
Who this course is for
Beginner SolidWorks users; students or professionals
Download links:


Archive
« March 2023 »
Mon
Tue
Wed
Thu
Fri
Sat
Sun
1
2
3
4
5
6
7
8
9
10
11
12
13
14
15
16
17
18
19
20
21
22
23
24
25
26
27
28
29
30
31