Udemy – Cinema 4D : How to create a 3D Laptop Promo

2022-12-26

Video Tutorials
/
3D Tutorials

489

0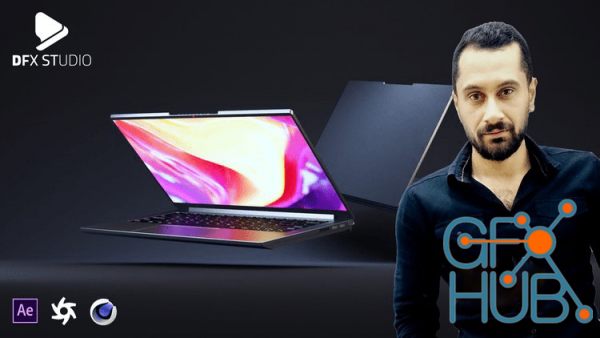 In this course, we will learn how to create a professional 3D Laptop Promo in Cinema 4D, Octane Render, and Adobe After Effects
What you'll learn
Be able to create 3D Modelling
Be able to create 3D designs and animations.
Be able to create 3D Lighting And Texturing in Octane Render
Be able to Compositing 3D Renders in After Effects
Requirements
You should have simple information about the programs Cinema 4d | Octane Render | After effect
Description
descriptionIn this course, you will learn how to create a professional laptop ad using Cinema 4D, After Effects, and Octane Render. You will start by learning the basics of Cinema 4D, including how to model, texture, and light a 3D laptop model. You will then learn how to import your Cinema 4D scene into After Effects and add motion graphics and compositing techniques to enhance the final product. Finally, you will learn how to use Octane Render to create photorealistic renders of your laptop ad. By the end of this course, you will have a complete laptop ad that is ready to be used in marketing and promotional materials.RequirementsCinema 4D (A basic understanding of Cinema 4D is necessary to make the most out of this course)After EffectsOctane Render (optional)we'll cover everything step by step, so you can easily follow through, including.ModelingCamera AnimationLightingTexturingRenderingCompositingThe study of the scene in the lessons is shown in stages, from the very first steps in modeling to the setting of light, materials, rendering, and composition.After this course, you'll be able to easily create professional 3d motion graphics and create a lot of thingsUdemy offers a 30-day 100% money-back guarantee. So if you for any reason at all find that the course wasn't for you, you can get a full refund.However, I think, and hope, you'll find this to be an efficient and fun training to get started with Cinema 4D.You can follow my work on my YouTube channel "DFX STUDIO"I'm very excited to be sharing my knowledge with you and can't wait to see what you create with the skills you'll learn in this course. So if you're ready let's get started!
Who this course is for
3D design using 4d cinema
3D designer
motion graphics designer
Beginner designer
4d cinema
3d animation
Animation designer using 3D software
Animator using After Effects
Download links:


Archive
« March 2023 »
Mon
Tue
Wed
Thu
Fri
Sat
Sun
1
2
3
4
5
6
7
8
9
10
11
12
13
14
15
16
17
18
19
20
21
22
23
24
25
26
27
28
29
30
31