Udemy – Advanced Scene Creation For Games

2022-12-18

Video Tutorials
/
3D Tutorials

763

0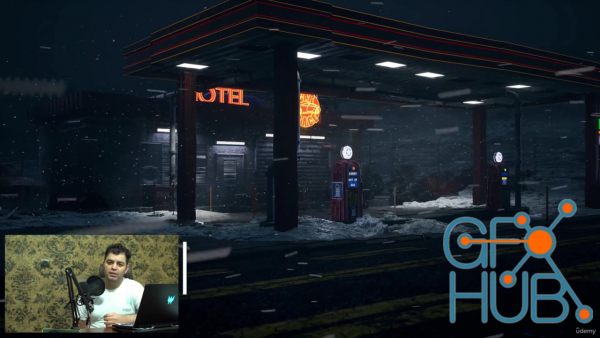 Dark and moody scene using the new methods for games?
What you'll learn
How to plan for an Environment Art piece
Make a blockout to ensure that the ideas are working correctly
When to rush for a prop and where to put details
How to sculpt in Zbrush for environments
Making Master Materials for games
How to set to simple yet effective Niagara particles to add motion to the scene
Requirements
I expect you to have some sort of basic experience with Unreal Engine 5, Blender, Substance 3D Designer, Substance 3D Painter and Zbrush.
Description
We will first start by taking a look at references, in this scenario we do not have an actual concept art. So we create a mood board by existing photos and then combine them in our mind to get a sense of the final product. Then to make sure that the idea is going to work, we will set up a blockout of the scene to get a feeling about the scale, composition and probability of the environment. Then we will start to generate art to replace the blcokout, and we do it in an iterative fashion, we do not make anything in one go; but rather we do it in multiple steps. We are going to create a lot of props and textures for this project, and we learn which props are more important and why? And of course where to sacrifice quality on some props to put that saved time and energy for another more important prop. We have a focus on material creation and how to reuse the same material and changing it in multiple scenarios for multiple use cases. We will learn about setting up a modular environment and how to clear the repetition by using vertex blending decals and set dressing props. And games are all about saving for performance, so we are going to learn some simple techniques to work more efficiently. Finally, there is going to be some content relative to the VFX and lighting.
Who is This Course For?
I have designed this course for intermediate 3d environment art students, who want to make beautiful looking environments, but they struggle to get it because they don't find a tutorial which is a step by step, no fast-forward, no skip.
The course is also for artists who want to speed up their workflow in Unreal Engine 5, Blender, Substance 3D Designer, Substance 3D Painter and Zbrush and improve their skill in creating an environment.
Download links:


Archive
« March 2023 »
Mon
Tue
Wed
Thu
Fri
Sat
Sun
1
2
3
4
5
6
7
8
9
10
11
12
13
14
15
16
17
18
19
20
21
22
23
24
25
26
27
28
29
30
31