Udemy – Corona 9 in 3ds Max

2022-11-26

Video Tutorials
/
3D Tutorials

701

0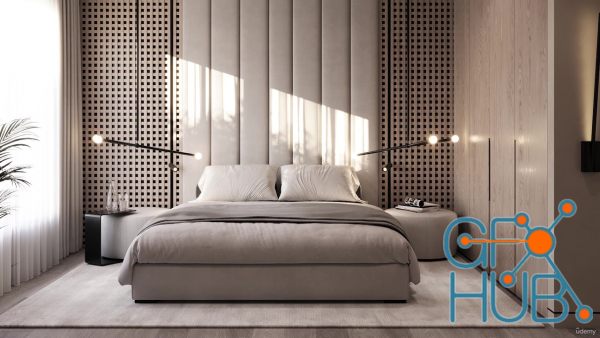 Create Beautiful Photorealistic Renderings with Corona in 3ds Max | Taught by an award-winning architect
What you'll learn
Create your own photorealistic renderings from scratch with Corona Renderer in 3ds Max
Become confident using the Corona Renderer
Render setup with Corona Renderer
Place cameras & understand camera settings
Set up the natural & artificial lighting to your scene
Create and apply materials to make your scenes photorealistic
Learn the basics of 3ds Max - perfect for anyone brand new to this application
Requirements
You will need 3ds Max and the Corona Renderer installed to follow along.
You can use the 30-day free trial of 3ds Max and 45-day free trial of Corona to get started.
You DO NOT need any experience to take this course, but any prior knowledge of working in 3ds Max will help you jump right in. I include beginner tutorials to get everyone up to speed.
Description
Do you want to create your own photorealistic renderings?This Corona in 3ds Max course will teach you to create beautiful photorealistic renderings to visually engage your clients. From camera position and lighting, to adding materials, merging objects and creating stunning imagery.Enroll now and get instant access to:3 hours of easy-to-watch video lessonsDownloadable project files to follow along withInstructor support if you have questionsLifetime access to course updatesWhat will you learn in this Corona in 3ds Max course?3ds Max is the industry standard modeling and rendering software for visualizations. Corona is a plugin that adds the ability to easily create photorealistic images to 3ds Max. This course focuses on photorealistic 3d renderings. This course IS NOT for modeling in 3ds Max. This course will teach you how to use Corona in 3ds Max to design realistic 3D interiors. This includes:Learn the basics of 3ds Max, including the interface, tools, selection and transform tools, and how to save projectsLearn how to set up a project, assign Corona, and adjust your render settingsLearn how to add cameras, compose a shot, and adjust your settingsLearn how to use CoronaSun to set up the natural lighting to your sceneLearn how to use CoronaLights, Coronaies, and LightMix to set up the artificial lighting to your sceneLearn how to apply a scene's materials such as glass, metal, wood, fabrics, and moreOnce you learn the skills in this course, you can then move on to exteriors and other types of renderings. But this course is focused on teaching you lighting, cameras, and materials for interior spaces. Who is your instructor?Margarita Nikita is the co-founder of High Q Renders, an award-winning creative company with renderings for international hotel brands such as Marriot, Ritz Carlton and Hyatt. Her clientele includes celebrity interior designers Kari Whitman & Fox Nahem, with clients like President Obama, Jessica Alba, Melanie Griffith and Robert Downey Jr. - just to name a few. Margarita has a passion for teaching beginners like you, and is excited to help you on your journey. From workflow tips to landing your first job, she'll help you get started.Enroll now to learn Corona in 3ds Max
Who this course is for
Architectural designers, interior designers, and anyone else wanting to create photorealistic renderings
Anyone who wants to learn the Corona Renderer in 3ds Max
Download links:


Archive
« March 2023 »
Mon
Tue
Wed
Thu
Fri
Sat
Sun
1
2
3
4
5
6
7
8
9
10
11
12
13
14
15
16
17
18
19
20
21
22
23
24
25
26
27
28
29
30
31