Skillshare – Blender Animation Using Constrain Function

2022-11-19

Video Tutorials
/
3D Tutorials

200

0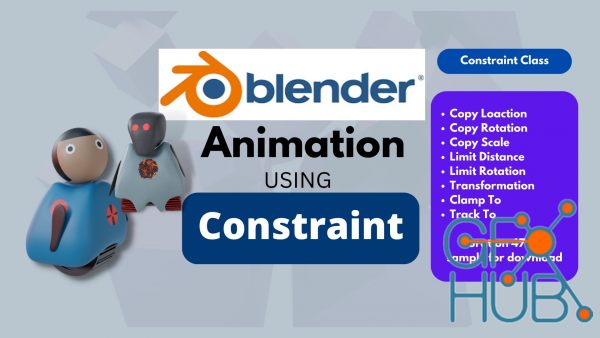 Blender Animation Using Constrain Function
About This Class
Congratulations! Now that you've finished the course. And learned all the basic of constraint and its application
Description
Blender animation using Constrain function
Class Overview
Welcome to amazing series of blender application on the skillshare.com
The basic animation process in blender ,strat with keyframing just like moving objects, rotating or scaling and much more and all blender users are familiar with these terms.
Using keyframing is difficult and sometimes it becomes confusing. So to make the process easy we use constraints.
Constraint list located on the viewport right side in the properties menu.
All these constraints you see on the screen are very useful with a combination of key framing.
For example, If we want, one object should change its location and the other object must rotate at the same time.
Yes we can get this animation using keyframing both the objects. But by using constraints,we can simultaneously do it very fast and easily.
What You Will Learn
In this class you will learn the basics of constraint bits application.
Why You Should Take This Class
Keyframing and constraint are the basic of animation so every blender user must know about it
Learning constraints make workflow easy and enhance creative level.
Simple language of explanation which helps you learn easily and fast.
Who This Class is For
This class is for both beginner and advanced users.
Any blender user to gain clear and accurate knowledge of blender animation..
Materials/Resources
User must be familiar with fundamental of blender interface
Blender 2.8 and above.
Minimum knowledge of blender interface
Project Guide
Congratulations! Now that you've finished the course. And learned all the basic of constraint and its application
It's time to practice!
Feel free to create the same object or play with different elements along the way.
Don't be afraid to try new models, try all possible addons in blender to get the best result output.You might come up with something better ;) I believe in you!
I've included the related blend file and some documents I used in the course for you to follow along and practice on them.
All the blender files and images are attached with the project you can download it.
After finishing the course you will be able to practice and create simple animation and step towards the advanced work.
Overview
Lesson 1:Introduction To Constraint in Blender
Lesson 2:Copy location
Lesson 3:Copy Location Example
Lesson 4:Example 2
Lesson 5:Copy Rotation
Lesson 6:Example
Lesson 7:Copy Scale
Lesson 8:Limit Location
Lesson 9:Limit Distance
Lesson 10:Transformation
Lesson 11:Example
Lesson 12:Clamp to
Lesson 13:Track to
Lesson 14:example animation using constraint
Lesson 15:COMING SOON...
Download links: