Udemy – Blender : Ultimate Game Art Creation Guide

2022-10-21

Video Tutorials
/
3D Tutorials

1 042

4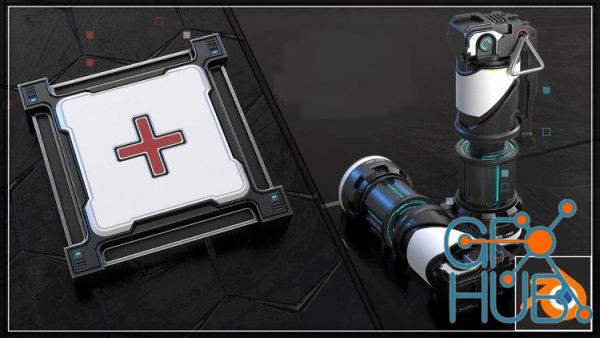 Create PBR Game Ready Assets for your portfolio and game engines with only Blender
What you'll learn
Modeling Game Ready Meshes for Game Art
UV Mapping and Baking Texture Maps for Game Engines ( Unity, Unreal Godot )
Game Ready PBR Texturing in Blender
Lighting and Presentation in Blender for your portfolio
Presenting your work in Sketchfab
Description
Introduction
Want to create game ready art for your portfolio and game engine with only blender? This course goes over the process of creating PBR game ready assets to showcase in blender or to export to your favorite game engine of choice such as Unreal, Unity, Godot & Sketchfab. I made this course as an answer for aspiring creators to start strong in their creative careers without having to pay for huge software subscription and just focusing on using the free and open source 3D software Blender!
Sections
Beginners - Create our Game Ready First Aid Kit
Advanced - Creating our game ready Sci-fi Grenade
An Overview of important tools and workflows in making these Assets
Project Files of Section 1 & 2 included in the first video of each section
What you will learn
Modeling tools and techniques for game models
Game asset optimizations and UV Unwrapping
PBR Materials and Texturing
Baking Important PBR Maps for Game Engines
Lighting and Presentation in Blender
Exporting your assets to Unity, Unreal and Godot
Presenting models in Sketchfab
Finishing 2 projects from scratch!
Who is Course for?
Beginner users who want to create unique game props from scratch!
More intermediate users who are struggling with the game art workflow in Blender
Who this course is for
For Aspiring 3D artists and Game Developers
Requirements
Beginner knowledge in blender will help
Download links:


Archive
« December 2023 »
Mon
Tue
Wed
Thu
Fri
Sat
Sun
1
2
3
4
5
6
7
8
9
10
11
12
13
14
15
16
17
18
19
20
21
22
23
24
25
26
27
28
29
30
31