Udemy – Learn SolidWorks Basics from Scratch

2022-10-4

Video Tutorials
/
3D Tutorials

164

0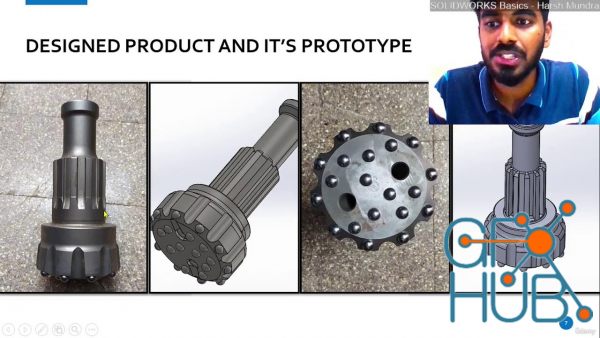 CAD Training: Learn to Master SolidWorks to aim for good jobs if you are a complete beginner
What you'll learn
Acquire Product Designer skills and can include that in your resume.
Apply for CSWA certification programme for SOLIDWORKS with confidence.
Become expert in Computer Aided Designing field of Mechanical Engineering and eligible for many Jobs in this field.
Become specialist in Modelling because it is the basic need for any product design.
Use SOLIDWORKS to create 3D and 2D Models.
Make assemblies and animate it in SOLIDWORKS.
Requirements
No CAD Experience needed. you will learn everything from scratch about CAD in this course.
You will need SOLIDWORKS 2018 or newer to open the models I provide throughout the course.
Description
I am a Mechanical Engineer, and I love this profession because I enjoy engineering. I love to crack engineering behind every action taking place in the world. Specifically, in mechanical engineering, I love the design part. This is one of the initial steps in producing anything. I was utterly dependent on my professors for jobs, skills, and education at my UG. Later I learned that they are here in college only for your education, not for your job. They can guide you but you have to learn skills yourself if you want to make your career. If you want to be a design engineer and get a good job, you can't depend on professors because these advanced skills don't come under the college curriculum. It is not their responsibility to teach you these softwares.
Everyone thinks that mechanical engineers get significantly lower salaries compared to other engineers. If you also feel the same, then I must say your approach is incorrect. You must work with the latest technologies & software to keep up with every profession. If you solely depend on core mechanical studies, then I'm sorry, but you will earn significantly less than others. Foreign Mechanical Engineers earns a lot more than Indian engineer. Do you ever think of why? Because they know how to work with the latest technologies.
Mechanical engineering is very vast, and we are the ones who can keep it updated. You should start learning new skills in the mechanical field. I got inspired by designers worldwide working on massive projects through LinkedIn, and because of that, I also began learning software from my first year of UG. Now I am trying to pass on this teaching skill to my juniors, classmates, and everyone. I am a teacher but you can call me a friend. I think that if you are learning something from your friend then definitely you will not forget that but if any teacher is teaching you then there is a high chance that you will not focus properly and you'll definitely forget that skill. So, here I am, a college student from the National Institute of Technology, Calicut and I want you to watch this course assuming that your friend is teaching you.
This is a full legit course on CAD Software right from basics. In this course, I demonstrated all the features of CAD software. SolidWorks is the most user-friendly software available for Computer-Aided Design. I tried to make this course as comprehensive as possible so that you all can learn the basic features of SolidWorks in time and practice all the questions that are uploaded in this course.
Download links: