Udemy – D5 Render: An Interior Render Guide

2022-09-28

Video Tutorials
/
3D Tutorials

152

0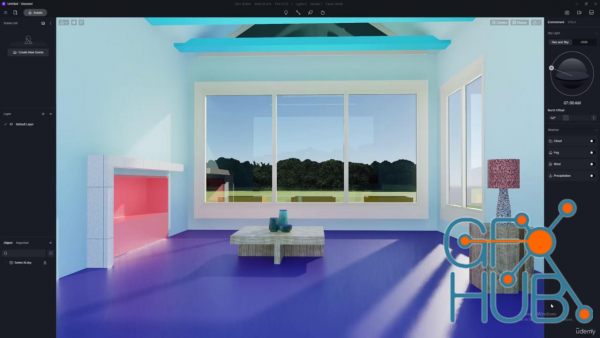 Download video course by Udemy – D5 Render: An Interior Render Guide. A Start to End Render Project.
What you'll learn
You will learn a complete interior project workflow for architectural rendering utilizing SketchUp, D5 Render and Photoshop.
Be introduced to D5 Render and will learn the various elements of the program.
How to export your finished renders, and the best settings to use.
How to use Photoshop for post production.
Requirements
A basic knowledge of SketchUp is required; how to navigate and use the beginner tools.
Access to the software that we use and a PC Desktop or Laptop that can run D5 (An RTX enabled graphics card is a must)
A basic knowledge of SketchUp, D5 and Photoshop is required.
Description
Welcome to D5 Render: An Interior Render Guide
This course is suitable for students who wish to understand a complete, interior project, from start to finish. This course will take you through all the steps required to compete an interior D5 Render ArchViz shot.
We will be using a fantastic and modern rendering software (D5 Render), which provides stunning visuals and has an accessible learning curve. We will cover one project in detail, and we will explore the steps and techniques required to compete a final stunning render. Topis we examine include
Getting your projects into D5 Render
Setting up materials, and how to best approach materials
Adding and utilzing assets from the asset library
How to light your scene for the best results
How to export your final render
And lastly, we will look at how to use Photoshop for post production, and the finishing touches to make your images look stunning.
Once a student completes the course, they will have the skills they need to complete their own projects utilizing the workflow demonstrated.
I have been teaching architectural vizualization for over five years, and I hope that you can learn some useful tips and techniques that you can use on your own work.
I hope you have a great experience with this course, and that you learn something of value!
Who this course is for
This course is intended for thos with a basic knowledge of architectural rendering, or those looking for an introductory tutorial to D5 Render
MP4 | Video: h264, 1280x720 | Audio: AAC, 44.1 KHz, 2 Ch
Genre: eLearning | Language: English | Duration: 28 lectures (1h 41m) | Size: 1.83 GB
Download links: