Udemy – Video Game Weapon Course : Modeling / Substance Painter 2

2022-08-20

Video Tutorials
/
3D Tutorials

768

2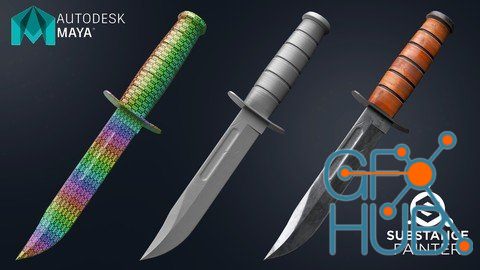 Learn how to model, unwrap, and texture weapons for games. Use Maya and Substance Painter 2 to create AAA quality models
What you'll learn
Set up reference images inside of Maya
Create block out meshes and understand their purpose
Build optimized and well thought out high poly models that are rich in details
Create low poly models that have great topology and will look great in game
Learn the fundamentals of good texture unwrapping and layout for different situations
How to keep clean files that are organized when working with a game team
Exporting your models so that you can work with them in game or other art software
How to use Substance Painter 2 to bake our model's textures
Creating realistic textures and materials inside of Substance Painter 2
Rendering portfolio screenshots of our models out of Iray
Exporting our final textures from Substance Painter 2 so that we can use them in a game engine.
Requirements
Fundamental knowledge of using Maya
Description
Learning how to create weapons for games can be hard. There are many places where things can go wrong. Trying to follow multiple tutorials about modeling and texturing can result in leaving out the most important details or, in the worst case, give you the wrong information. This can leave you feeling confused about how to model and texture game weapons and asking yourself how you could improve the quality of your art work.
What you want is a game industry professional to walk you through the process of creating a game ready weapon. You would have no questions about how to create the highest quality results possible. Your art and knowledge would jump in quality, leaving you with beautiful art for your portfolio or game.
This course is designed to give you all the skills you need to create beautiful weapons for games. You will be walked through each step of the creation process of creating a first person knife. All the steps have been recorded and narrated to give you the skills to not only build this knife but to build any type of 3d weapon at the highest quality. By the end of this course you will have the skills to create beautiful weapons and models for games. Now is the time to increase your art ability and really let your true skills come through. So sign up for the course now and have yourself wondering why you ever let yourself struggle at creating beautiful weapons for your art portfolio or video game.
Download links:


Archive
« December 2023 »
Mon
Tue
Wed
Thu
Fri
Sat
Sun
1
2
3
4
5
6
7
8
9
10
11
12
13
14
15
16
17
18
19
20
21
22
23
24
25
26
27
28
29
30
31