Skillshare – Architecture Rendering in Photoshop ( Stormy Night )

2020-08-14

Video Tutorials

350

0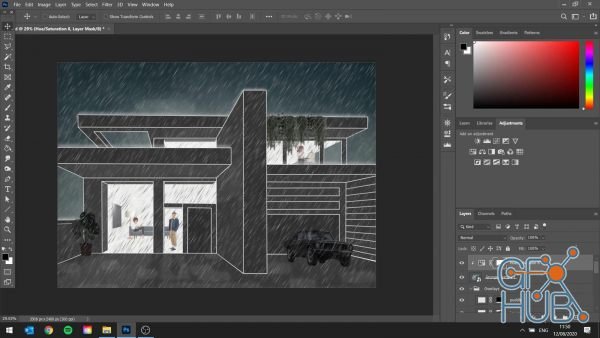 Skillshare – Architecture Rendering in Photoshop ( Stormy Night )
Hi my name is Vicente Baum and my aim is to teach you how to create a digital architectural collage so that you can express and communicate your unique ideas. This process allows you to create an effective render in very little time.
This class is a continuation from my first class on Photoshop collage. So to get the most benefit out of this i recommend that you watch that class first.
What will you be learning:
The main learning outcome is to show you how you can use all these skills learned in the first video to create a visually different piece.
- How to source images for your very own collage.
- Basic as well as advanced shortcuts in Photoshop which will allow you to work smoothly and efficiently.
- How to use mask layers.
- How to use adjustment layers.
- How to work in Photoshop in a non-destructive way. Allowing you to come back and make changes at a later time. Say like following a review in architecture school.
- How to create convincing shadow and depth.
- Applying distorts to make the perspective look super realistic.
Download links: