Marshall Vandruff – Bridgman Figure-Drawing BootCamp

2020-08-10

Video Tutorials

882

2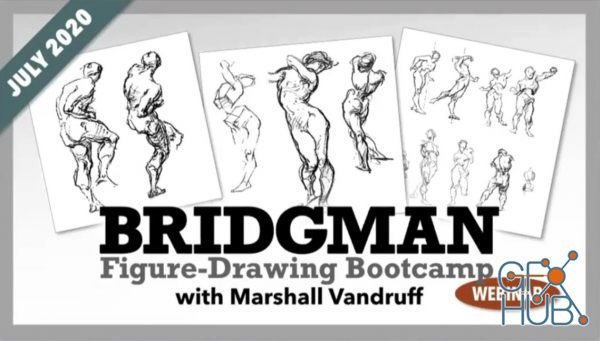 Marshall Vandruff – Bridgman Figure-Drawing BootCamp
This is a bootcamp. You will survive it more easily than military bootcamp, but it requires serious work on between-class projects during solitary confinement in July heat.
The Participant Tier includes my feedback on your work during sessions and meetings. During crits, you will witness me transition from hard-nosed drill sergeant to nurturing medic.
The Observer Tier saves you money and includes all 24 hours of instruction. It doesn't include crits, but as your drill sergeant from a safe distance I will encourage you to team up with your friends, invest your energy together in projects, and if necessary, kick each other's butts.
The Sessions
Day 1 Thursday,
July 9
Intro to "How to Draw the Figure"
Overview of the Course
Day 2 Friday,
July 10
Proportions of the Figure
Three Shapes
Straight Line Security
Day 3 Saturday,
July 11
Thickening the Figure
Three Forms and Variations
Day 4 Thursday,
July 16
Poses
Balance & Rhythm
The Varied Skills
Day 5 Friday,
July 17
Twisting Torsos
3D Rhythms
Metaphors from Nature
Day 6 Saturday,
July 18
Wedging, Passing & Locking
Assembling the Figure
Memory Drawings
Day 7 Thursday,
July 23
Light & Shade
Distribution of the Masses
Neck & Head Structure
Day 8 Friday,
July 24
Bones as Forms
Skeletal Foundation
Day 9 Saturday,
July 25
Body as Machine
Bones & Muscles
Day 10 Thursday,
July 30
Hip Joint
Leg Muscles & Forms
Day 11 Friday,
July 31
Shoulder Mechanics
Arm Muscles and Forms
Day 12 Saturday,
August 1
Hands and Feet
Bridgman in Context
Download links: