3DTotal Textures Vol. 11 – Alien Organic

2014-06-25

Textures
/
Texture collections

701

0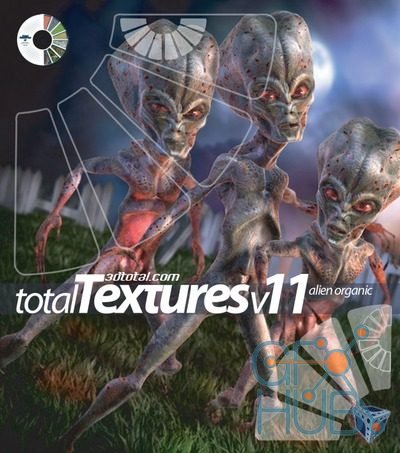 3DTotal Textures Vol. 11 – Alien Organic – is a collection of alien-esque organic textures.
Total Textures V11:R2 - "Alien Organic" is a collection of alien-esque organic textures. From the weird and slimey, to more subtle skin tones, these textures are made up from many layers and elements captured by 50% photography and 50% hand-painted. Many textures have several combined layers and they are all 100% seamless and have additional handcrafted extras such as matching bump and specular maps.
This DVD contains 164 individual materials, comprising of over 492 individual, handcrafted texture maps. Every texture has its own unique colour map, bump map and specular maps.
The textures are split into two main sections, categorised by firstly colour, then sets. The colour textures are arranged by whatever the dominant colour is within the texture. These textures are however very flexible and the colour can be changed to suit your needs.
The texture sets are designed to be used as a group in their entirety to fully map a character, and are therefore broken into categories that correspond to the various body parts. There are two maps aimed at texturing the body (front and back) which can be placed alongside each other, as the vertical edges match creating a seamless "wrap around". Likewise, there are two sets for the arms and legs, plus a tentacle version. The idea is that each texture can be combined to help create a complete map across an entire mesh, and one that describes the numerous areas of detail and keeps the style consistent throughout.
Download links:


http://nitroflare.com/view/F8E1A31D1CBA3A1/3D_Total_Texture_vol_11.part1.rar
http://nitroflare.com/view/B96315E9C33D1AC/3D_Total_Texture_vol_11.part2.rar
http://nitroflare.com/view/07CDF05E4BBFD64/3D_Total_Texture_vol_11.part3.rar