DOSCH HDRI – Extreme Hires

2016-07-19

Textures
/
Texture collections

2 119

2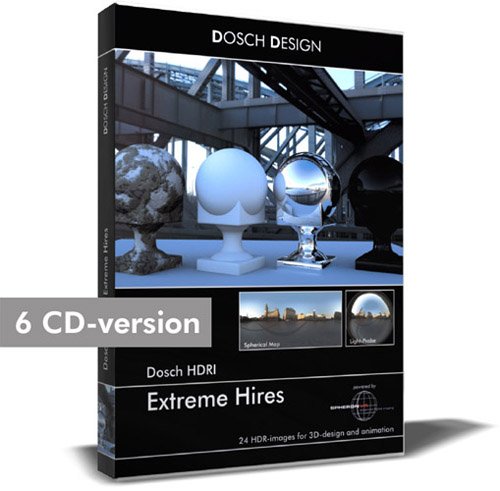 DOSCH HDRI – Extreme Hires – a compilation of professional, high-quality HDRI images in different formats and resolutions.
Composition of the collection, description:
The extra illumination info of a scene which is wrapped into the HDRI-surround image gives your radiosity-scenes a degree of realism so far reserved for Hollywood …
With Dosch Design's HDRIs your 3D-scenes will look like "a million bucks": The new product line Dosch HDRI offers the user a high-quality and comprehensive library of HDRI effects for the direct use in high-end 3D-Design- and animation applications.
High-resolution HDRIs:
The HDRIs of this collection are provided in the following resolutions – and are therefore also perfectly suited for background use.
Spherical Map XL – 6248×3124 Pixel
Spherical Map – 2048×1024 Pixel
Light-Probe XL – 4096×4096 Pixel
Light-Probe – 2048×2048 Pixel
Light-Probe Small – 512×512 Pixel
Vertical Cross – 6144×4608 Pixel
Horizontal Cross – 4608×6144 Pixel
Download links: