Peter Guthrie SKY HDRI Bundle

2014-09-10

Textures
/
Texture collections

4 998

0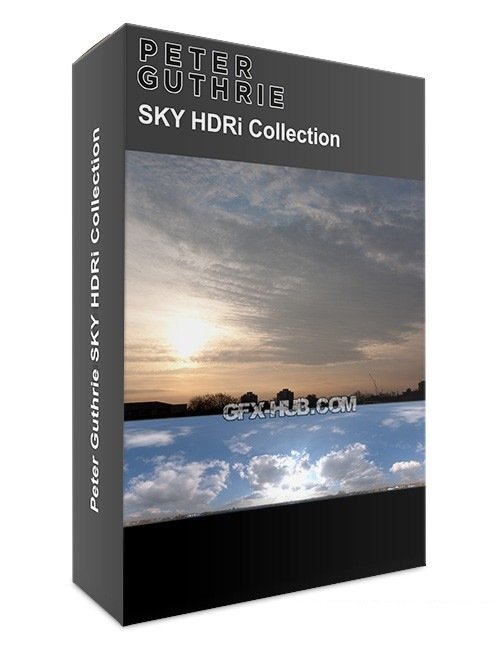 Peter Guthrie SKY HDRI Bundle
Peter Guthrie SKY HDRi Collection is a collection of professional panoramic HDRi sky images in various weather, seasonal and temporary conditions. Winter, summer sky, dawns, sunsets, clear and cloudy skies, evening, daytime and morning shots - see the full list below. Panoramic high resolution HDR can be used to create environment maps, illuminate 3D scenes, create realistic reflections. It is noteworthy that in addition to the HDR format, the collection also includes JPG, maps, EXR files and for many textures also backplate sources.
Includes:
0707 dawn sun
0743 Cloudy Morning Sun
0839 Cloudy Dawn
0902 Over Cast
0907 Dawn Sun
0911 Dawn
0917 Dawn
0927 Wispy clouds
1008 Cloudy
1044 Overcast Sun
1103 Sun Clouds
1224 Clear Sky
1236 Clear Winter Sky
1313 Cloudy
1322 slightly hazy(HDRI only)
1325 Sun Clouds(EXR only)
1433 Sun Blue Sky
1554 Clear Sky Low Sun
1608 Cloudy Sunset
1614 Sun Clouds(HDRI only)
1658 Sun Clouds
1725 Sun Clouds(EXR only)
1735 Clear Sky(HDRI only)
1739 Sun Clouds
1808 Blue Sky White Clouds
1847 Dusk Sun
1853 Low Sun Clouds(HDRI only)
1928 Dusk Sun (EXR and JPEG)
1929 Cloudy Sunset
1931 Low Sun(HDRI only)
1934 Dusk Sun Clouds
1941 Dusk Blue
2003 Dusk Blue
2009 Dusk Pink Sky
Home Page: _http://www.peterguthrie.net/blog/
Format: .hdr (~7000x3500 px), jpg (~2000x1000 px), exr, backplates jpg (~4300x2900 px).
Download links: