BOOM Library – BOOM ONE

2022-12-7

Sounds

3 398

8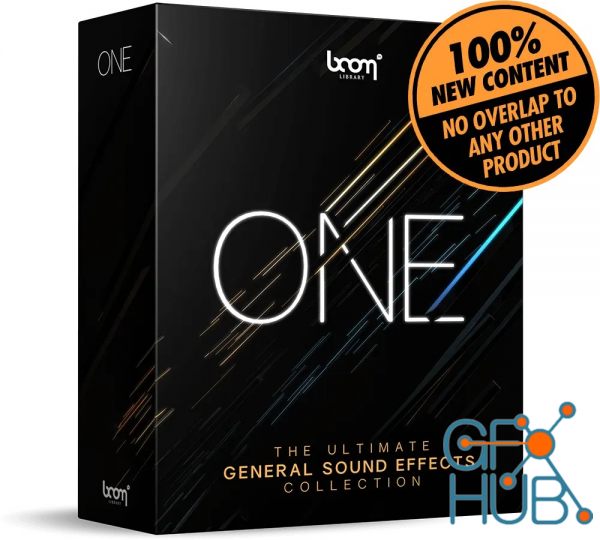 BOOM Library – BOOM ONE (WAV)
ONE MASSIVE & EVER-GROWING GENERAL SOUND LIBRARY
BOOM ONE is a unique selection of original, high quality sound effects, which have not been released in any other BOOM Library collection.
NEW RECORDINGS ONLY – NO SOUNDS USED FROM OTHER BOOM LIBRARIES
The sounds are brand-new, created from scratch and nowhere else in any of our collections. They are from all genres for all sound professions, a general library that everyone can use, with common genres that are needed by everyone that other libraries often leave out.
THE ONE SOUND LIBRARY FOR ALL
Starting with 40,000+ files containing 90,000+ sound effects, BOOM ONE is our new flagship for general sound effects.
No reused sounds, pristine and consistent quality. Perfect for creators, post-pro, video, games and more.
ONE ULTIMATE AUDIO RESOURCE
BOOM ONE is the foundation of your success. A comprehensive and consistent benchmark general sound fx library, that is the perfect addition to our massive theme-based BOOM Library collections.
A WORLD OF SOUND – FROM A TO Z
Ranging across a wide spectrum of needs, BOOM ONE is the one library that will have what you're looking for. Bringing you an impressive mix of thousands of high-quality BOOM Library sounds – from ambiences to zippers – it continuously adds more through the subscription service.
A TOOLBOX FOR PROFESSIONALS
Since we started BOOM Library in 2010, we have learned a thing or two about the needs of sound designers and media creators. BOOM ONE covers all these needs.
FLEXIBLE: most of the sounds come on 3 or more variations.
UP-TO-DATE: we add new sounds every month within the subscription.
CONSISTENT: UCS metadata, recorded from scratch.
PREMIUM, BOOM-GRADE QUALITY
We only used the best recording gear. All sounds are recorded with high-end equipment in at least 96kHz / 24-bit. We have crafted this new product line to exactly meet your needs, leaving no one out.
CONSTANT NEW CONTENT
BOOM ONE is constantly getting bigger, better, more comprehensive, more complete. Choose the Subscription Plan to get sounds immediately throughout the year. Or you can buy the latest released sounds at the end of each year as an upgrade.
- 400+ GB
- 40,000+ WAV FILES
- 100% UNIQUE & ORIGINAL NEW CONTENT
- CONTENT LIST
COMPATIBLE SOFTWARE
BOOM Library sound FX come as WAV files, meaning you can import and work with them in any software that can handle this file type.
RICH METADATA EMBEDDED
To provide you with the fastest and easiest workflow possible, all files contain extensive metadata like file description & keywords to quickly find the sounds you're looking for. Metadata can be read and processed by audio management tools. Some digital audio workstations feature an included search tool that can also read embedded metadata.
SOUNDS ACROSS THE WHOLE UCS BOARD
The Universal Category System (UCS) classifies sound effects into a specific set of categories to easily maintain sound effect libraries. BOOM ONE provides you with sounds from all categories to give you the most comprehensive set of sounds to work with.
home page: https://www.boomlibrary.com/sound-effects/boom-one/
Download links:


Archive
« September 2023 »
Mon
Tue
Wed
Thu
Fri
Sat
Sun
1
2
3
4
5
6
7
8
9
10
11
12
13
14
15
16
17
18
19
20
21
22
23
24
25
26
27
28
29
30