GameDev Market – Futuristic Sci-Fi Laser Machine Guns, Flamethrowers & Heavy Duty Weapons Sound Effects Library

2022-09-9

Sounds

280

0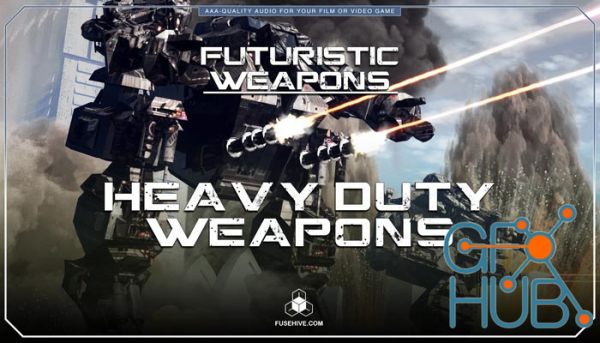 Download by GameDev Market – Futuristic Sci-Fi Laser Machine Guns, Flamethrowers & Heavy Duty Weapons Sound Effects Library – Science Fiction War Sounds MINI PACK (WAV / MP3)
Stockpile your arsenal of SCI-FI HEAVY DUTY WEAPONS with this mini pack of cutting edge sounds of FUTURISTIC science fiction WARFARE, designed by our team of AAA-industry veterans and huge fans of games like Doom, Halo, BioShock, Half-Life, Crysis, StarCraft, Mass Effect and movies like Star Wars, Terminator, Guardians of the Galaxy, Star Trek and many more.
From BIG CHAIN GUNS, to HEAVY ARTILLERY, MACHINE GUNS, to BOOSTED SHOTGUNS, FIRE WEAPONS such as FLAME THROWERS, futuristic GRENADE LAUNCHERS, GUN handling noises, sci-fi MACHINE GUNS, and more, this mini pack of sounds will give you everything you need for any sci-fi soldier wielding BIG heavy duty WEAPONS!
With 210 audio files and 70 original cinematic-quality sounds, we went the extra mile by creating multiple variations for each sound. All files are meticulously labeled, categorized and organized for maximum efficiency and ease of use, requiring absolutely no editing, labeling or splicing! And as always, we have included HD WAV, SD WAV and HQ MP3 versions of each sound for your convenience!
PERFECT FOR:
Video Games
Slot Games
Film / Animation
Ads / Trailers
YouTube Videos
Live Events
Sound Design
…and all other audio-visual productions
KEY FEATURES:
Huge variety of big and small weapons, futuristic industrial and sci-fi clean sounds, different type and intensity variants
Ready to use – requires no editing, labelling or splicing
Categorized, organized and individually labelled files for maximum use efficiency
All files are included in Hi-Rez WAV, SD WAV and HQ MP3 formats
FREE Updates to higher versions, FOREVER!
TECHNICAL DETAILS:
210 Audio Files (70 original sounds)
WAV Format: 24 Bit, 96 kHz and 16 Bit, 44.1 kHz
MP3 Format: 320 Kbps
Unpacked Size: 126 MB
Total Run Time: 7m 42s
Download links: