MAGIX Movie Edit Pro Premium 2018 17.0.1.141 Win x64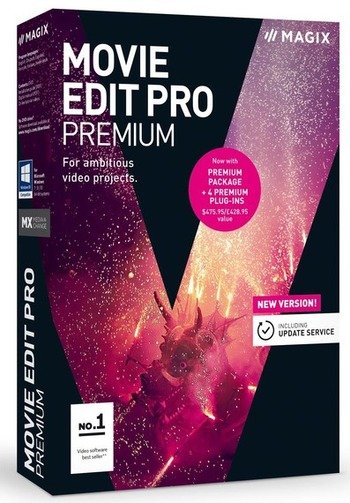 MAGIX Movie Edit Pro Premium 2018 17.0.1.141 Win x64
MAGIX Movie Edit Pro 2018 Premium - a new generation of video editing - more powerful, fast and high-quality. Along with all the advantages of the Plus version, the Premium version includes a wide selection of exclusive bonus programs and cinematic special effects. Turn your computer into a fully-equipped video editing studio.
Main advantages:
• High quality special effects, cinematographic templates and blanks
• Full Stereo3D support
• Advanced sound recording: Dolby Digital 5.1
• Full HD support: For HDV and AVCHD video cameras
• 99 tracks, MultiCam editing, route of travel, animation, etc.
• Editing video quality TV, mobile formats or for the web
A powerful video engine:
• New DirectX11 features for increased use of the GPU
• GPU-ported to numerous effects: auto exposure, auto color, RGB controllers
• Optimization of various effects in rendering
• New ability to manually select the desired graphics module (DirectX9 and DirectX11) with intelligent pre-selection
• Smooth Shutter Mode Changes
• Improved switching from memory card to main memory, when using GPU
Editing improvements:
• New mode when entering text to maintain the specified location area
• Fast input of a line in the name of parameters
• Monitor knobs in convenient for small and large titles
• Productive positioning processing
• Convenient and accurate sampling of the font with the mouse wheel while developing templates
• Settings can be applied to select multiple Object names
• The System tab of all the movies in the project
• Complete the movie menu in the file management menu and on the tabs
• Quick access functions for viewing, cropping and importing
• Switch for preview quality on the monitor screen
• Preview HD material quality
Advanced functions for viewing the rendering:
• Faster visualization
• Improved detection of changes in previously rendered areas
• Support for projects in Stereo3D
• Support of projects in Multicam
• Improved performance when playing on very old systems and more convenient work without manual configuration due to switching to MXV format
• Fast import of video files and shortcut function
• Accelerated file sharing for previewing for smoother workflow while sifting material
Several improvements for H.264 based on variable frame rate formats:
• Improved performance
• Playback / Export with standard frame rate
• Synchronization of audio objects
• Auto-cropping when importing source files
Extension for export to H.264 with hardware acceleration:
• Support for systems with Intel Quick Sync Video
• Automatic selection of a suitable encoder module for hardware acceleration of export (NVIDIA CUDA, AMD / OpenCL and Intel Quick Sync Video)
• Support for hardware acceleration of export to other profiles / li>
• New version of MainConcept sensor components with various improvements
• Interlacing video clips QuickTime
Enhanced Import Compatibility:
• Olympus OM-D
• Various PCM based on the import of H.264 video formats
• Extended support for various color codes in H.264 materials
Support for Xara Designer products
• To create static and animated effects
• For the development of vector graphics (drawings, logos, etc.) and overlay animation
• Functions for drawing directly on the video image
• Certification for "AVCHD Progressive
• intro / epilogue
What's new in MAGIX Movie Edit Pro Premium 2018:
• Storyboard and Timeline mode
• More than 1,500 effects, transitions, menus, intros and outros
• NEW! Includes soundtrack music
• NEW! 200 multimedia tracks
• Automatic wizards
• Premium effects package + special effects
• Smooth 4K proxy editing
• NewBlue Elements Overlay + ColorFast 2
• iZotope RX Elements + HitFilm Essentials
Download links:


http://nitroflare.com/view/AB16A5EC45E0BD5/Movie.Edit.Pro.17.0.1.141.Premium.part2.rar
http://nitroflare.com/view/695000909999B8C/Movie.Edit.Pro.17.0.1.141.Premium.part3.rar
http://nitroflare.com/view/B8B587A1BEBF9C8/Movie.Edit.Pro.17.0.1.141.Premium.part1.rar