Telestream Wirecast Pro v14.0.4 Win x64

2020-10-15

Softwares
/
Multimedia apps

285

0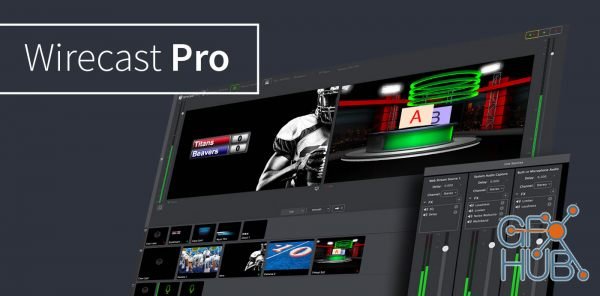 Telestream Wirecast Pro v14.0.4 Multilingual Win x64
Easily stream professional-looking video with Wirecast. What are you waiting for? Communicate your message to the world with Wirecast, the award-winning video production software. Go live with just your webcam or connect multiple cameras, scoreboards, graphics and remote guests. Wirecast makes it easy to stream amazing-looking live and pre-recorded video to Facebook Live, YouTube, Twitter, Periscope and more.
Professional live broadcasting features:
Easy to Use
Mix and swap video and audio shots with the click of a mouse. Move, drag, and resize sources and stack them in any order so you can get the look you want.
Unlimited Destinations
Stream to Facebook Live, Twitter, YouTube, Vimeo Live, or ANY RTMP destination. Stream to more than one at a time.
Stream & Record
Stream and record at the same time. Great for archiving or off-line editing, record MP4 or MOV files to any drive.
Unlimited Video Sources
Cameras, microphones, webcams, IP cams, capture cards, and more. See a full list of compatible third-party capture devices.
Conferencing & Remote Production
Rendezvous peer-to-peer conferencing comes built-in to Wirecast. Send guests a link to join your live broadcast.
Beautiful Graphics & Animated Titles
Over 100 built-in graphics and titles. NewBlue Titler Live, free with Wirecast, is the best way to display animated graphics and titles with Wirecast.
Social Media Comments
Built in Twitter comment curation and display. Display Facebook comments in animated titles using NewBlue Titler Live Express or NewBlue Titler Live Social.
Download links: