Leica HxMap v4.2.0 Win x64

2023-02-1

Softwares
/
Graphics-Design apps

221

0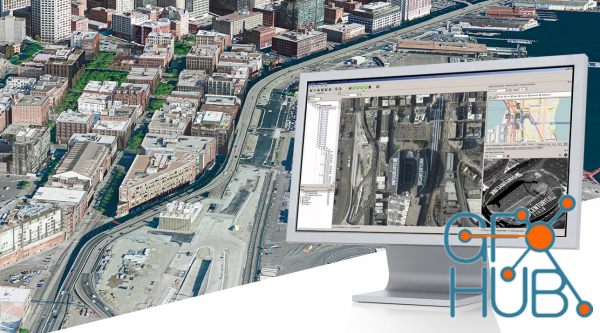 Free download new version of Leica HxMap software v4.2.0 for Windows 64-bit.
HxMap is a high-performance multi-sensor workflow platform that provides a fast, intuitive, and efficient post-processing workflow. It is used to produce geospatial data products within one single interface. It provides production tools that take raw flight datasets all the way through deliverable products refining radiometry and geometry along the process.
The user is guided through available workflow steps via the concept of task-oriented views (perspectives) within one central main window. Outputs created by HxMap are either image based or point based products that can be consumed by third party GIS applications.
HxMap focuses on the download, quality control of flight sessions and product generation of data acquired with the following Hexagon sensors
-Leica RCD30 (Nadir and Oblique) (1)
-Leica DMC III
-Leica ContentMapper
-Leica CityMapper and CityMapper-2
-Leica TerrainMapper and TerrainMapper-2
-Leica SPL100 (Single Photon LiDAR)
-Leica ALS80-HP and ALS80-UP
Saving you time and costs
-You and your staff only need to be proficient in one simple user interface to produce any known airborne data product. Don't waste time moving your data from one software to the other, but benefit from one end-to-end workflow.
Unprecedented data throughput
-Take advantage of the industry's fastest data throughput and process any amount of data more efficiently in one single post-processing interface.
Easily adaptable to your needs
-Create your personal post-processing workflow with one flexible and modular platform that can be customised to your specific application needs by adding software licenses only once you need them.
The Leica HxMap common sensor post-processing platform offers the following modules to meet your needs
-HxMap Enabler: Enabler
-HxMap Provider: Ingest, Raw QC, Workflow Manager, Point Cloud Generator, Projection Engine
-HxMap Core Image: APM, Aerial Triangulation, Infocloud, Ortho Generator
-HxMap Core LiDAR: AutoCalibration, Registration, Colour Encoding, Data Metrics, LiDAR QC
-HxMap 3D Modeller: City Modeller, Texture Mapper, 3D Editor, Building Finder
System Requirements
-IBM PC-compatible computer,
-OS:Windows 10 64-bit, Windows 8.1 64-bit OS Windows Server 2016 or Windows Server 2012 for High Throughput Computing (HTC) environment.

-Minimum 16 GB RAM for Standalone Leica RCD30 systems or systems of the DMC IIe series, for any other supported sensor 64 GB RAM is recommended

Space:3 TB or more free disk space for data processing. Disk space for data processing depends largely on the characteristics of production work and back up cycles used. It is recommended to have 20 TB or more available. One full day flight data with products may require about 3 TB.

CPU:3 GHz processor speed, total of 8 cores or more, needs to support SSE 4.2 and AVX (introduced in 2007/2008)

GPU:Graphics card - Mid-Range Consumer level Graphics cards with fast RAM speed, OpenGL version 2.0 or greater is required to support Remote Desktop (such as NVidia Quadro P2000)
Download links:


Archive
« March 2023 »
Mon
Tue
Wed
Thu
Fri
Sat
Sun
1
2
3
4
5
6
7
8
9
10
11
12
13
14
15
16
17
18
19
20
21
22
23
24
25
26
27
28
29
30
31