CAD Exchanger GUI 3.16.0 Build 16504 Win x64

2023-01-12

Softwares
/
Graphics-Design apps

237

0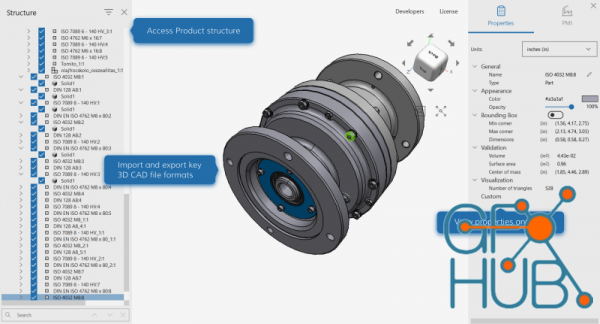 CAD Exchanger GUI 3.16.0 Build 16504 Win x64
CAD Exchanger GUI is an easy-to-use 3D viewer and converter to read and write all key 3D formats (IGES, STEP, JT, ACIS, Parasolid, IFC, FBX, Solidworks and others).
Features
View and convert
Measure objects
Build sectioning views
Explode assemblies
Create meshes
View PMI
Why Choose CAD Exchanger GUI?
Quality
Confidently import 3D data created in multiple applications. CAD Exchanger applies automatic healing algorithms to process poor data from various sources and to export to downstream applications.
Performance
Rapidly process large heavy-weight 3D models. CAD Exchanger leverages modern multi-core technologies via patented parallel computation algorithms.
Ease of use
Access to the most desired functions by navigating through logically structured menu and clear workspace.
Download links:


Archive
« March 2023 »
Mon
Tue
Wed
Thu
Fri
Sat
Sun
1
2
3
4
5
6
7
8
9
10
11
12
13
14
15
16
17
18
19
20
21
22
23
24
25
26
27
28
29
30
31