Nemetschek Allplan v2023.0.3 Win x64

2023-01-3

Softwares
/
Graphics-Design apps

535

0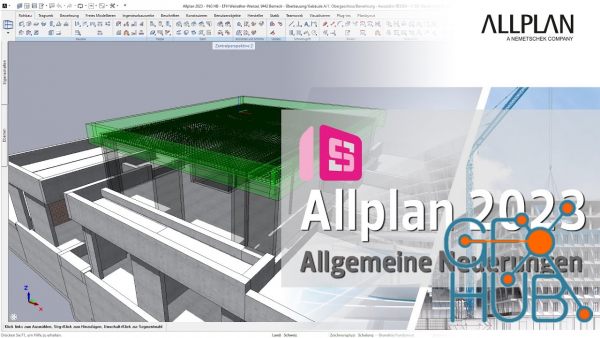 Nemetschek Allplan v2023.0.3 Win x64
Allplan 2023 is the connecting platform for interdisciplinary collaboration between architects, engineers, precast manufacturers and construction companies, bringing numerous innovations and improvements. As a multi-material solution, Allplan covers everything: from masonry, in-situ concrete to steel and timber construction and, for the first time, precast concrete parts. The possibility of coordinating different materials and construction methods in a common model enables architects to better consider the economical and sustainable use of building materials earlier and taking environmental regulations into account. Engineers and construction companies can build directly on the architect's design and use it as a basis for statics and construction, building services, prefabrication and construction.
Allplan supports workflows throughout the entire process, from the initial idea to the finished project, thus enabling time, cost and material savings.
Highlights for architects include accelerated processing of site survey and point cloud data for renovation projects, faster modeling of complex openings, and real-time BIM collaboration between Allplan and Solibri. Powerful improvements in visualizations and animations as well as real-time synchronization with Lumion enable convincing and successful presentations of concepts. BIM-compliant planning and attribution is simplified.
Civil engineers will particularly benefit from the time-saving new developments for the automatic detailing of reinforcement. A new toolbox for steel connections also enables higher accuracy and improves communication with project partners. Thanks to the integration of the previously separate plannable prefabricated part solution, it is now possible to optimally plan structural prefabricated parts such as stairs, columns, slabs and walls, as well as to create plans automatically.
Download links:


Archive
« December 2023 »
Mon
Tue
Wed
Thu
Fri
Sat
Sun
1
2
3
4
5
6
7
8
9
10
11
12
13
14
15
16
17
18
19
20
21
22
23
24
25
26
27
28
29
30
31