Altair Software Bundle 2022.2.0 (Dec 2022) Win x64

2022-12-24

Softwares
/
Graphics-Design apps

466

0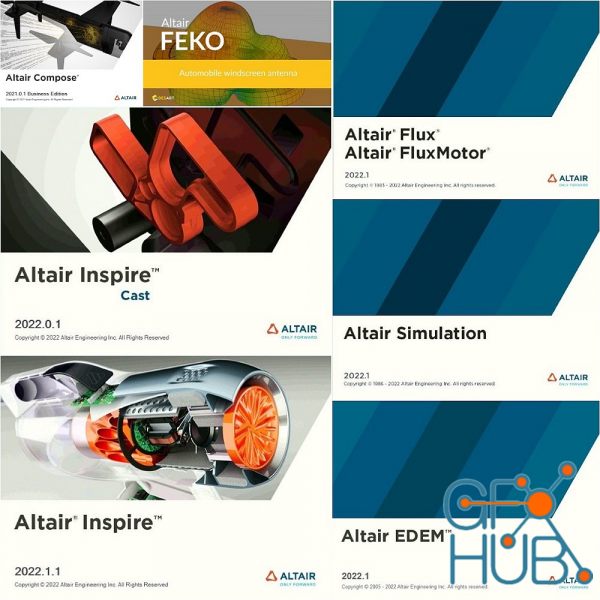 Altair Software Bundle 2022.2.0 (Dec 2022) Win x64
Includes:
Altair Inspire Cast 2022.2.0
Altair Inspire Cast (formerly Click2Cast) software is a fast, easy, accurate and affordable casting simulation environment focused on creating high quality components with increased profitability through a highly intuitive user experience. It is the only tool that caters to beginners and experts alike, from product designers to foundry engineers.
Altair Inspire 2022.2.0
Altair Inspire software is the industry's most powerful and easy-to-use Generative Design/Topology Optimization and rapid simulation solution for design engineers. It enhances the concept development process by enabling simulation-driven design to increase your product's efficiency, strength and manufacturability. This can lead to reduced costs, development time, material consumption, and product weight.
Altair Flux & FluxMotor 2022.2.0
Flux captures the complexity of electromagnetic and thermal phenomena to predict the behavior of future products with precision.
Altair HW FEKO 2022.2.0
Altair Feko™ is a comprehensive computational electromagnetics (CEM) code used widely in the telecommunications, automobile, space and defense industries.
Altair HWDesktop + Solvers 2022.2.0
Altair HyperWorks is one of the most comprehensive tools for open architecture CE modeling HyperWorks modernizes CE modeling and visualization by combining the capabilities of HyperMesh and HyperView in one solution. In addition, significant visual enhancements have helped create an even easier to use interface.
Altair EDEM Professional 2022.2.0
EDEM is the market-leading software for bulk material simulation. Powered by state-of-the-art Discrete Element Modeling (DEM) technology, EDEM quickly and accurately simulates and analyzes the behavior of bulk materials such as coal, mined ores, soil, tablet, and powders.
Altair Compose 2022.2.0
Altair Compose software is an environment for doing calculations, manipulating and visualizing data (including from CAE simulations or test results), programming and debugging scripts useful for repeated computations and process automation. Altair Compose allows users to perform a wide variety of math & linear algebra (including matrix analysis and differential equations), filter signals, fit polynomials through data, approximate or check results from commercial simulation software, perform optimization.
Altair Inspire Render 2022.2.0
Altair Inspire Render is the new 3D rendering and animation powerhouse for innovative designers, architects, and digital artists to produce stunning product presentations faster than ever before.
Altair Inspire Studio 2022.2.0
Altair Inspire Studio is the new solution for innovative designers, architects, and digital artists to create, evaluate and visualize designs faster than ever before. With unrivaled flexibility and precision, its unique construction history feature along with multiple modeling techniques empowers users throughout the creative process.
Altair Inspire Extrude 2022.2.0
Altair Inspire Extrude (ex Click2Extrude) Metal and Polymer are simulation based environments designed to help metal and polymer extrusion companies meet the ever increasing demands to produce complex profiles with tight tolerances, quality surface finishes and high strength properties at reduced cost. Altair Inspire Extrude Metal and Polymer are virtual presses where users can visualize material flow and temperature inside a die during extrusion and make necessary changes to ensure balanced flow, while identifying and eliminating product defects.
Altair Inspire PolyFoam 2022.2.0
Inspire PolyFoam is the newest simulation analysis tool of Altair. It is an integral part of Inspire for manufacturing platform. With Inspire Polyfoam, learn and perform a mold filling simulation and evaluate design concepts. Understand how to incorporate Inspire PolyFoam into traditional design process to efficiently optimize designs and avoid typical Foam defects.
Altair Inspire Form 2022.2.0
Altair Inspire Form (formerly Click2Form) is a complete stamping simulation environment that can effectively be used by product designers and process engineers to optimize designs, simulate robust manufacturing and reduce material costs. With the fast and easy feasibility module, users can analyze parts in seconds to predict formability early in the product development cycle. The automated blank nesting proposes an efficient layout of the flattened blank on the sheet coil to maximize material utilization. The tryout module includes a highly scalable incremental solver, helping users to iterate and simulate multi-stage forming, trimming and springback in a modern and intuitive user interface, reducing complexity and making the production of high quality parts more economical.
Altair Inspire Mold 2022.2.0
Altair Inspire Mold - a program for modeling plastic injection molding.
Altair SimLab 2022.2.0
SimLab is a process-oriented multidisciplinary simulation environment to accurately analyze the performance of complex assemblies. Multiple physics including structural, thermal and fluid dynamics can be easily setup using highly automated modeling tasks, helping to drastically reduce the time spent creating finite element models and interpreting results. Altair's robust, accurate and scalable solvers can run either locally, on remote servers or in the cloud.
Download links: