GRAPHISOFT ARCHICAD 26 Build 4019 Win x64

2022-10-20

Softwares
/
Graphics-Design apps

1 396

2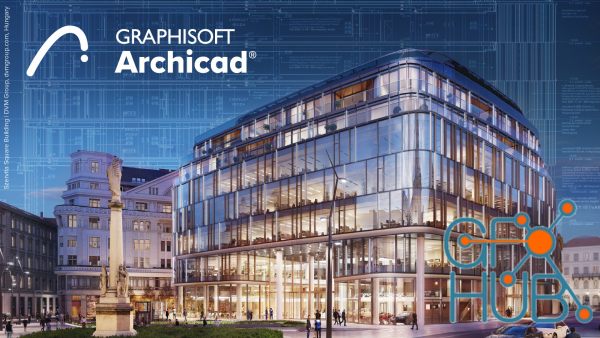 Download letest version of GRAPHISOFT ARCHICAD 26 Build 4019 for Windows 64bit (Release Oct 2022)
Design, visualize, document, and deliver projects of all sizes with Archicad's powerful set of built-in tools and easy-to-use interface that make it the most efficient and intuitive BIM software on the market. With Archicad, you can focus on what you do best: design great buildings.
Collaborate
Work with your team and other disciplines around the corner or around the world on projects of any size and complexity. Open standards and workflows mean collaboration is guaranteed — regardless of what software team members are using.
Design
Unleash your creativity with the leading BIM software developed by architects like you. With algorithmic design tools and large model support, you can do what you do best: design great architecture.
Visualize
Archicad's professional architectural visualization tools translate your conceptual designs into compelling imagery of future buildings. Bring your models to life, inspire the audience, and invite stakeholders to engage with your designs.
Document
Complete, out-of-the-box documentation tools combined with a powerful publishing workflow that complies with local BIM requirements means you can focus on your designs, not the paperwork.
1. Simply start modeling
In Archicad, your intuition comes first. Just start working and let your ideas flow. It's easy thanks to features like the wall tool and the large, integrated libraries with predefined objects such as windows, doors, and furnishings. Define component properties at any time, and to a high level of detail.
2. Designs are just a click away
Archicad saves you valuable time. You only need to create a 3D model once – and simply press a button to generate the associated floor plans, sections, and elevations. Every change you make to your building model is automatically transferred to all plans. This happens in the background, in a matter of seconds. Archicad intelligently taps into unused processor resources ensuring a smooth, uninterrupted workflow.
3. Always up-to-date material list
Archicad automatically creates lists of all model elements such as walls, windows, doors, railings, beams, or façade elements. View the current component schedules at any time and adjust the list directly.
4. Easy data exchange
Export and share model data with colleagues thanks to the integrated publisher — with just one click. Archicad supports more than 40 export formats and, with its IFC interface, facilitates open collaboration and integrated workflows with engineers.
5. Work in a team
Edit your project on multiple workstations, even simultaneously and from multiple locations. The Teamwork function in BIMcloud helps you stay in sync with all members of the project.
6. Compelling visualizations
Bring your project to life for your clients – with an impressive presentation via desktop, notebook, tablet, or even smartphone. Simply export a BIMx file. With the BIMx mobile app, you always have your designs at hand and can present them in 2D, 3D, and via a virtual walk-through.
7. Archicad Keeps Getting Better
One of Archicad's strenghts is that it is constantly evolving. Our regular updates gives you access to significant productivity and efficiency improvements – especially when working in a team or together with external partners.
What's New in ARCHICAD 25?
New Native Survey Point
Streamline your coordination workflows thanks to the native Survey Point in Archicad 25. The Survey Point enables easier, centralized handling of real-world coordinates in all Open BIM workflows. Survey Point supports IFC and BCF file exchange, and also provides better interoperability with conventional (e.g. DWG) file formats.
Easy migration from Revit to Archicad
Re-use previous project files when migrating from Revit to Archicad, thanks to the RFA & RVT geometry exchange functionality. Available out-of-the-box with Archicad 25, with support for Autodesk Revit 2021.
Interoperability with Revit
Better collaboration with engineers using Revit MEP software. Support for Revit file formats up to 2021 is now built in to Archicad. Import RFA as a native Archicad Object and create MEP equipment from Revit Family files. Export a 3D model as Revit 3D geometry and hotlink a 3D RVT model. Archicad now handles Revit's Discipline filter, so when you hotlink a Revit file, what you see in Revit is what you get in Archicad.
Solibri connection improvements
Solibri is the industry leading code- and constructability checking application. Save time and eliminate the errors in roundtrips thanks to the Archicad-Solibri Connection add-on, free for all users. With the latest improvement, you can select Solibri's current Selection Basket items in Archicad and view them in the same camera position.
Generation Rules Enhancements
Generation Rules help the structural engineers to avoid heavy manual work on Structural Analytical model. Archicad 25 now comes with a few novelties (such as Improvements of Offset Adjustments and Connection Range, Eliminating Overlapping Parts of 2D Members, and Streamlined Structural Supports.)
New Handling of Structural Loads
Collaborate with structural engineers without data loss. During roundtrip engineers add information to the model, such as loads and loads-related data on their preferred structural analysis tools. When opening the engineer's SAF model, Archicad 25 correctly displays loads and load data. View and manage loads and load-related information, such as load cases and load combinations. Structural engineers can also adjust or add new loads in the Archicad model.
Automatic Export Mapping of Manufactured Profiles
Save time and effort when exchanging files with structural engineers. When exporting structural elements as part of SAF-based data exchange, Archicad 25 now automatically maps them to manufactured profiles, based on a predefined or customized database.
New residential and commercial furniture
39 new contemporary furniture and decorations objects – such as new modular kitchen cabinets, sofa beds, cloth hangers, curtains, coat racks, tables, chairs, mattresses, and grills are now part of the default Archicad library – totaling over 1,300 parametric objects already.
Quick shift between 2D/3D views
You're working in 3D, but would prefer to edit a component in 2D? This is now seamless: Simply select the element and open it in any other view. Moving back and forth from 2D to 3D is just as easy.
Polygonal Openings
Take advantage of more precise quantity estimations. With custom-shaped polygonal wall openings, create holes of any shape which exactly fit your MEP elements – resulting in more accurate quantities.
Rhino 6 and 7 connection improvements
Import and export Rhino 6 and Rhino 7 files to leverage the power of the industry-leading free-form organic design tools, then switch to Archicad to continue the design development and documentation processes.
New Along Chord stair construction geometry method
Define the length of the walking-lines of stairs that comply with specific local standards. The existing Along Arc geometry method is still available.
New tread symmetry combinations for all winder types
A new stair winder option is now available: Turning Point – Asymmetric Going. Define and edit custom stairs that follow your design intent quickly and easily.
New Stair Landing control
Now the extra landing length can be automatically distributed equally from the landing start or from the landing end. This is useful when an existing staircase must be adapted to changing design environment.
Display of surface textures in sections and elevation views
Communicate your design in life-like detail. Display your surface textures directly in section and elevation views in Archicad without the use of additional editing software.
Realistic soft-shadow and cover fill option on textures
Present your design with accurate, artistic details. Use soft shadows to add contours and depth to your surfaces in section and elevation views. Overlay textures with the pattern fill of your choice. Your client gets a better picture of the model, and you benefit from faster approval.
New Graphic Override Options
Enjoy more flexibility in communicating your design. New controls in Graphic Overrides include custom RGB color for both Surface and Fill Background Pen overrides; surface transparency; and off/on display of contours on cut and uncut surfaces in model views.
New Labeling option for MEP elements
Automatically display MEP-related information for a smoother MEP documentation workflow.
Download links:


Archive
« December 2023 »
Mon
Tue
Wed
Thu
Fri
Sat
Sun
1
2
3
4
5
6
7
8
9
10
11
12
13
14
15
16
17
18
19
20
21
22
23
24
25
26
27
28
29
30
31