CADdirect 2023 Pro 23.12x Win x64

2022-10-1

Softwares
/
Graphics-Design apps

129

0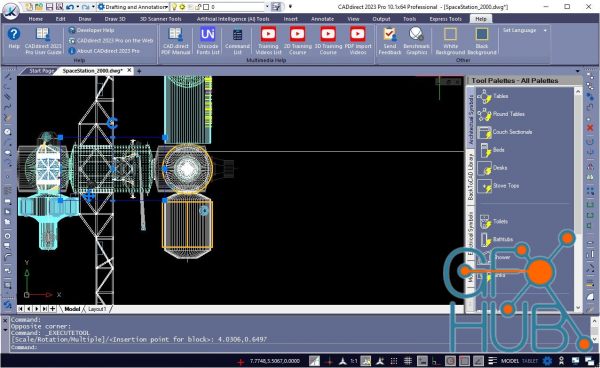 Free download CADdirect 2023 Pro 23.12x Multilingual for Windows x64
CADdirect 2023 incorporates standard features found in other CAD programs, along with features and capabilities you won't find anywhere else. CADdirect 2023 fully supports AutoCAD legacy drawings and reads and writes .dwg files in their native format without any loss of data, from AutoCAD 2023 back to Version 11, including AutoCAD LT®.
Best Full Compatible with AutoCAD® Settings
CADdirect 2023 provides unparalleled compatibility with AutoCAD, using most of the same file formats including those for drawings (.dwg files), commands, linetypes, hatch patterns, and text styles. You can also use AutoCAD menu files and run Autodesk LISP programs.
Revit® / IFC to DWG Conversion
Convert .Ifc, .Rvt, .Rfa Files Into Editable DWG Entities
CADdriect 2023 Pro version offers Revit® and IFC conversion into native DWG entities. CADdirect 2023 Pro includes great AEC Symbol Library, IFC/BIM Import, and plenty of AEC architectural functions like walls, doors, stairs etc. CADdirect Architectural AEC Models are fully compatible to ADT® and other 3D CAD systems.
Powerful 3D AEC Architectural Modeling (Pro Version)
IFC/BIM/Revit® Import / Underlay
CADdirect 2023 fully supports three-dimensional AEC Architectural Models like Walls, Windows, Doors, Stairs etc. CADdirect 2023 supports creating, editing, rendering, viewing of AEC Models. Architectural cuts through the construction. Import and export of IFC, BIM, Revit® files.
Move Settings From AutoCAD® to CADdirect in Minutes
Import Your AutoCAD Customizations - CADdirect Is Ready For Import Of Following Files Or Settings
Customer User Interfaces (.cui, .cuix files)
Customer Menus (.mnu, .mns, .ica files)
Toll Palettes (.xtp files)
Templates (.dwt Files)
LISP Programs (.lsp files)
Plotter Files (.plt files)
Font Files (.shx Files)
Dimension Styles
Layout Settings
Linetypes
Hatch Styles
User Coordinates
Multiline Styles
Views
Text Styles
Blocks
External References
Layer Definitions
Download links: