Gen3D v1.8.3 Win

2021-04-18

Softwares
/
Graphics-Design apps

60

0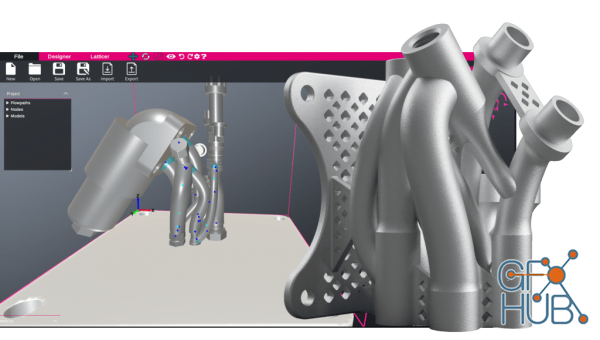 Gen3D v1.8.3 Win
Rapidly create AM-appropriate geometry with our design accelerators and generative design features. Define or change the layout of a concept in real-time using our click-and-drag 3D editing tools. Use our proprietary manufacturing checks and compensation tools to truly exploit the benefits of AM and reduce the risk of costly failures.
Rapid Generation of 3D Geometry.
Click-and-drag flowpath editing
Painlessly create 3D spline geometry using our click-and-drag interface to rapidly generate new concepts that are optimised for additive manufacturing.
Blended cross sections
Automatically and seamlessly loft between different cross-sections to help you exploit the benefits of AM and optimise your components.
Conformal geometry
Automatically create conformal geometry over complex surfaces to increase packing efficiency and minimise material usage.
Realtime visual feedback
Create and dynamically edit patterned objects to create multiple spline objects whilst receiving real-time feedback on your design.
Intuitive Creation of Lattice Structures.
One click lattice creation
Rapidly add lightweight lattice structures to your models and effortlessly fine-tune their properties.
Multiple coordinate systems
Choose between cartesian, cylindrical or spherical coordinate systems to ensure lattices fit seamlessly within your CAD models.
Structural modifiers
Tailor the properties of your lattice structures by grading the cell size and density across multiple axes.
Free download links for «Gen3D v1.8.3 Win»: