Adobe Illustrator CC 2018 22.1 Win x32/x64

2018-03-24

Softwares
/
Graphics-Design apps

1 797

2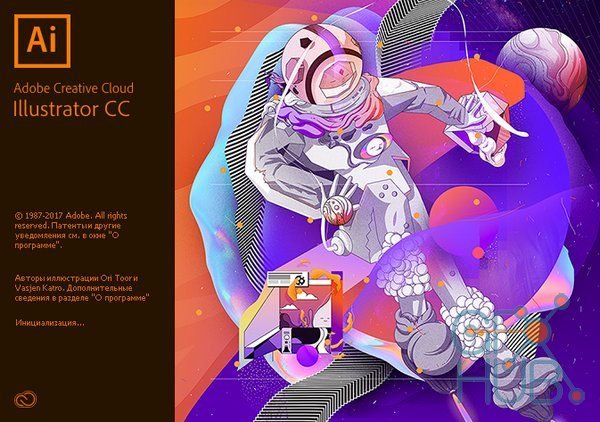 Download Adobe Illustrator CC 2018 22.1 for Windows x32/x64
The Adobe Illustrator CC 2018 software is controlled by the new Adobe Mercury Performance System, which allows you to process large, complex files with high speed and reliability. A modern, updated interface optimizes everyday tasks. Advanced tools for creativity allow more effective implementation of ideas.
Among the best features are:
Improved vector tools. Use accurate and effective project creation tools. Create expressive vector graphics for virtually any media source. Freely experiment and embody your creative ideas with complex shapes, colors, complex effects and expressive typography, using precise shape creation tools, natural custom brushes and advanced contour controls.
Integration with other Adobe solutions. Easily convert projects for printing into projects for the Internet and mobile devices through the close integration of industry-leading Adobe solutions such as Photoshop, InDesign®, After Effects®, Acrobat® and others.
Adobe Mercury Performance System. Accurate, fast and incredibly reliable tools allow you to work with large complex files thanks to the built-in support for 64-bit Mac OS and Windows® OS, optimizing the memory and performance of the entire system.
Use multiple artboards. Organize and view up to 100 editing areas of different sizes, cascaded or in the form of a grid. Easily add, delete and rename areas, and change the order of their location. Save, export and print the artboards individually or together.
Gradients and transparency. Work with gradients directly on the object, set the sizes of elliptical gradients, adjust the colors and adjust the opacity parameters. You can even create gradients for strokes and grids.
Clarity of contours in projects for web applications and mobile devices. Creation of vector objects, located exactly on the pixel grid, for the preparation of raster illustrations with clearly defined edges of the contours. Use the anti-aliasing settings for individual frames.
Trace the image. Easily and quickly convert raster images into editable vectors thanks to an efficient trace mechanism. High accuracy of lines, accuracy of adjustment and reception of reliable results - by means of simple, intuitively clear controls.
Drawing in perspective. Using perspective meshes to create accurate figures and scenes in 1-, 2-, or 3-point linear perspective.
Creation of patterns. Easily create shared vector patterns. Freely experiment with different types of repeating patterns, which you can edit at any time to create the most flexible layouts.
Editing the design from the palette. Edit the characteristics of the object directly on the "Appearance" panel. This allows you to get rid of the need to open palettes associated with fills, strokes and effects.
Formats of graphic files of the industrial standard. Work with almost all formats of image files, including PDF, EPS, FXG, Photoshop (PSD), TIFF, GIF, JPEG, SWF, SVG, DWG, DXF, etc.
Tools for creating Adobe PDF files. Create secure multi-page PDF files with expressive graphics and with the preservation of Illustrator layers. Transfer files with any service providers through the support of PDF / X standards.
New features of Adobe Illustrator CC 2018:
Properties panel. Central access to all controls speeds up work. The new Smart Properties panel contains only the necessary tools that appear at the right time.
Puppet deformation. Convert the vector graphics, while preserving the natural look. The "Puppet Deformation" function allows you to quickly create and modify graphic objects, without configuring each circuit or reference point separately.
More artboards. Now in Illustrator you can create up to 1000 artboards on one canvas and work with a lot of content in each document.
Sets of styles. Apply predefined additional glyphs to whole blocks of text. You no longer have to select and modify each glyph separately.
More convenient structure of the mounting areas. Select several artboards at the same time, automatically align and arrange them on the canvas with one click. Objects that are attached to the artboard are now moved along with it.
Colored fonts SVG. Use in projects fonts containing several colors, gradients and degrees of transparency. All this is possible thanks to SVG OpenType fonts.
Variable fonts. Illustrator supports variable OpenType fonts. You can change the thickness, width and other parameters, creating your own style and not breaking the original design.
Download links:
Resolve the captcha to access the links!
Comments
Add comment
Information
Users of are not allowed to comment this publication.