Corel Painter Essentials 6.0.0.167 Win x64

2018-02-12

Softwares
/
Graphics-Design apps

1 457

0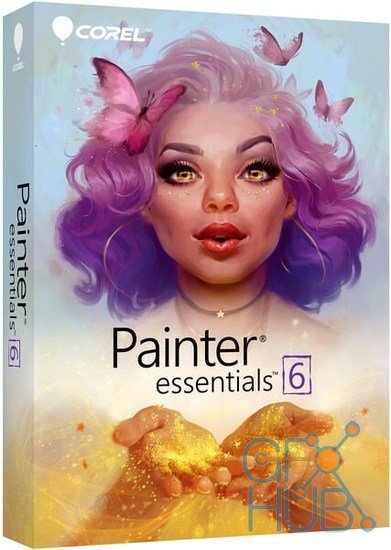 Download Corel Painter Essentials 6.0.0.167 for Windows x64
Corel Painter Essentials - provides users with everything they need to draw and process digital images. The product uses a number of developments, previously implemented in the package Corel Painter - the world's best set of tools for creating illustrations. Beginning artists and professionals are guaranteed to be delighted with the diversity of brushes, pencils, paper textures, etc.
For users of the Corel Painter Essentials version, there are two separate workspaces: Drawing & Painting and Photo Painting, the first of which is for drawing, and the second for editing photographs. The Brush Drawer tool will quickly find the right brush, and the Color and Mixer palettes will simplify the selection of colors.
A simple program for the artistic processing of digital images and drawing, focused on home users. Corel Painter Essentials can work in two modes: drawing and working with photos. The program has a convenient selection of brushes with the ability to create a list of frequently used brushes, a palette for convenient mixing and choosing colors, special tools for creating pictures from photographs. The existing RealBristle drawing system in Corel Painter Essentials improves the brush response on the artist's movements and is the basis for digital painting. The program also has many tools that mimic various brushes, a large collection of paper textures.
Corel Painter Essentials 6 Features:
NEW! Superior speed and performance
Manage memory-intensive operations, such as working on large canvases, plus zooming, rotating and working with layers, all at top speed. Equally important, your brushes will blaze across the canvas allowing you to focus on painting.
NEW! Updated user interface
Launch the newly designed Welcome Screen to kick start your painting experience. Create new documents and templates, choose from workflow UI layouts, see what is new and exciting in the world of Essentials, access helpful tutorials, view an inspirational art gallery and check out our brush packs for specific workflows.
Dry Natural-Media
Sketch your vision using the perfect pencil for the job, choose from grainy, thick and thin and scratchboard tool variations. Then, render your masterpiece using an exciting variety of Chalks, Pastels, Crayons and Charcoal including blunt, soft, square, tapered and jitter variants that will suit any task at hand.
Wet Natural-Media
Create an oil or acrylic painting using clumpy, glazing, flat or filbert brushes, spray fine, coarse or soft airbrush paint all over your canvas, dip in to digital watercolor to wash, spatter or diffuse paint and emulate Impressionist Masters like Sargent and Post-Impressionists like Van Gogh. No matter what, you will have fun experimenting!
Signature Painter media types
Create with unique Painter media types like dynamic Particles that spring, flow and gravitate across canvas, plus F-X effects that sprinkle fairy dust, glow, jitter, shatter, distort and more! Or grab a Pattern Pen to stroke decorative brushstrokes across your canvas like magic.
Smart photo-painting tools
Start off easy using the one-touch Auto-Paint tool. Simply open the photo of your choice, select a painting style and click play. As a must-have paint editor, Essentials will magically paint the photo for you using Smart Stroke technology that follows the lines and contours in your image, no hands required.
Tracing and cloning images
Sketch right over your photo using Tracing Paper as a guide to ensure that your hand drawn composition is perfection or create a one-of-a-kind photo painting by pulling the colors from your photo through any brush allowing you to fill the canvas with hand-hewn strokes.
Symmetry painting
The time-saving Mirror tool reflects your painting on the opposite side of the canvas using your media of choice. Turn on Kaleidoscope and paint using 3-12 reflective segments and create stunning kaleidoscope paintings.
Drawing tablet support
Essentials incorporates pressure sensitive memory that will adapt to your particular touch. Provide a sample of your stroke in the Brush Tracker to globally set sensitivity or save your pressure for each of your favorite brushes allowing Essentials to remember and respond accordingly.
The medicine and installation and activation instructions are included
Download links: