Video Copilot Element 3D 2.2.3 Build 2192 Win / 2190 Mac x64

2022-12-30

Plug-ins
/
VFX Plugins

1 565

0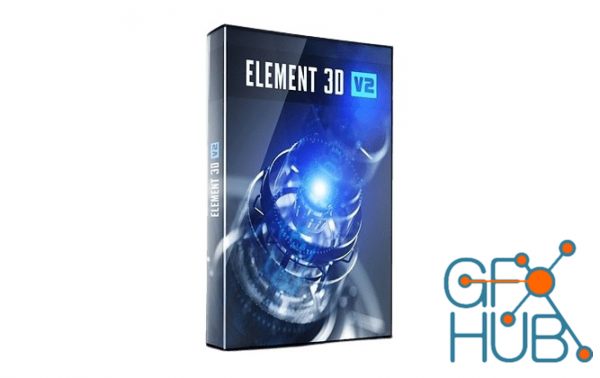 Video Copilot Element 3D 2.2.3 Build 2192 Win / 2190 Mac x64
Video Copilot Element 3D v2 is an advanced 3D object and particle render engine. High Performance After Effects™ Plug-in for creating Motion Design & Visual FX! Group Symmetry Creation Mode. Dynamic Group Folder Reflections. Matte Reflection Mode. Updated UI with speed improvements. Matte Shadow with Alpha Channel.
REAL 3D OBJECTS!
- Import 3D Objects & Textures
- OBJ & C4D Formats
- Animation OBJ Sequences
- Textures: PNG, JPG, HDR, EXR
NEW: Automatic Texture Importing
- OBJ with MTL
- C4D Files
Video Copilot Element 3D v2 Capabilities
- 3D Rendering in After Effects
- Create Complex Animations
- Physically Based Materials
- 3D VFX and Motion Graphics
- 3D Particle Shapes
- Wireframe
- Sub Surface Scattering
- Shadows and AO
3D SHADOWS - SOFT SHADOWS AND AMBIENT OCCLUSION
OPENGL Shadows: (Faster)
- Supports Spot Lights & Parralel Lights
- Soft Shadows for Spot Lights
- Up to 8K Map Resolution & Sample Quality
- Shadow range based on map size
IMPROVED SSAO: (Faster)
- New SSAO includes quality presets
- Tighter contact & SSAO Color Tint
Ray Trace Shadows & AO (slower)
- Supports All Light types
- Accurate Soft Shadows
- Renders slower & Requires more memory
- Ray Trace features require OpenCL GPU
Ray Traced AO: (Slower)
- Accurate contact edges
- Slower that SSAO
DISTORT YOUR 3D OBJECTS
- Multiple Distortion Noise Modes
- Advanced fractal settings
- Combine with transfer modes!
REDESIGNED INTERFACE - PRODUCTIVITY STARTS HERE
FEATURES
- New Group Folders
- Combine 3D Models in groups
- Transform objects inside
- High Quality preview with reflection
- New Texture Levels control
NEW PARAMETRIC OBJECTS
- Create Primitives objects
- Edit segments and size
- Use as Particle Replicator shape
BEVEL & EXTRUDE - CREATE INCREDIBLE 3D TEXT
FEATURES
- Extrude Text & Mask Shapes
- Built-in Bevel Presets
- Animate Individual characters
- Multiple Bevels per Object
TRANSFER MODES & WIREFRAME MATERIALS
WIREFRAME
- Control wireframe settings per material
- Great for UI design or HUD graphics
MATERIAL TRANSFER MODE
- Set materials to ADD or SCREEN
- Composite Smoke and fire with ease
- Objects blend in 3D Space
Release Notes
System Requirements
- After Effects CS5, CS6, CC
- Windows 7 SP1 & up (64-bit)
Image Formats
- HDR
- EXR
- DDS
- JPEG 8-bit
- PNG 8-bit 16-bit
- After Effects layers can be used up to 32bpc
3D File Formats
- OBJ
- C4D R12 & up
Download links:


Archive
« March 2023 »
Mon
Tue
Wed
Thu
Fri
Sat
Sun
1
2
3
4
5
6
7
8
9
10
11
12
13
14
15
16
17
18
19
20
21
22
23
24
25
26
27
28
29
30
31